A man is wanted for slashing another man in the back at a subway station in Manhattan, authorities said.
A 29-year-old man was leaving the Union Square subway station Saturday morning when a stranger approached him from behind and slashed him on his back, police said. The victim chased the attacker into the subway station, where he jumped on a northbound 6 train, police said.
The victim was taken to Beth Israel Hospital and is in stable condition, police said.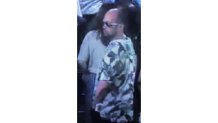 Anyone with information is asked to call the NYPD's Crime Stoppers Hotline at 800-577-TIPS.
Top Tri-State News Photos