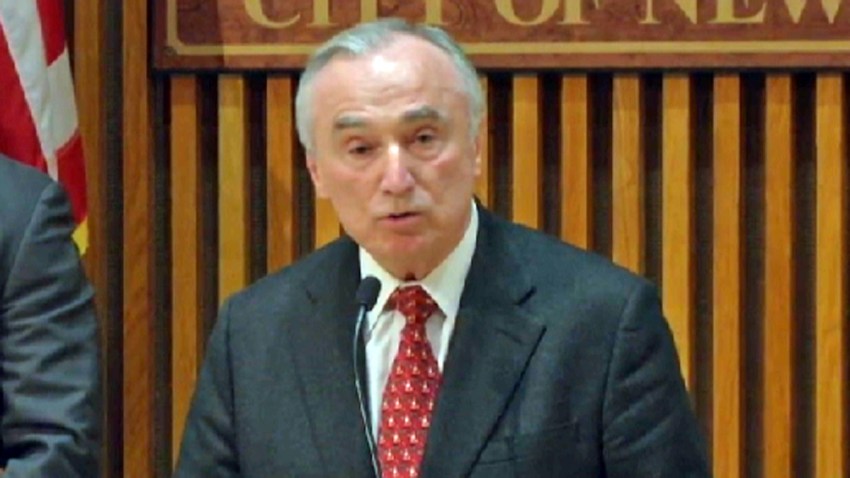 Six people are being sought in connection with an assault on two police officers during the Saturday night Millions March demonstrations on the Brooklyn Bridge, Police Commissioner Bill Bratton said Monday.
"We do not take attacks on our police officers lightly. Never have, never will," he said after a briefing in which he reviewed video and pictures of the attacks on Lt. Philip Chan and Lt. Patrick Sullivan.
Bratton said the NYPD will release enhanced images of the suspects Tuesday and announce a "significant" reward for information in the assaults.
Around 25,000 to 30,000 demonstrators participated in the New York City demonstrations Saturday, part of a nationwide movement to bring attention to the deaths of unarmed black men who have died at the hands of police, and the perceived lack of judicial consequence for the officers in the cases.
Bratton said police were prepared for the marches in New York and that "by and large, the day went off as we would expect, without incident, and large crowds."
That evening on the bridge, he said, "a small group sought to change the dynamics of that day, the peaceful protests by tens of thousands of New Yorkers and others, and instead chose to, in their own selfish manner, make it all about them."
Among those alleged agitators, Bratton said, was Eric Linsker, the 29-year-old part-time CUNY adjunct professor who was caught trying to throw a heavy metal trash bin over a bridge railing onto a lower roadway.
He fled, but not before six other people assaulted the two police officers who tried to apprehend him. Those three men and three women each either grabbed Chan or Sullivan as they tried to take Linsker into custody, or kicked and punched the officers.
The altercation happened within two minutes, Bratton said, and it was all captured on video. Chan sustained a broken nose, and Sullivan had minor injuries.
"Thankfully, there are so many characters out there looking to post their exploits on YouTube," said Bratton. "We're greatly assisted by YouTube and social media, so in that regard I want to thank them for providing us with the evidence that will ultimately help us to arrest them and hopefully successfully prosecute them."
Linsker was later arrested after police identified him from belongings inside a backpack he dropped as he ran away. He was released after pleading not guilty to charges of assaulting police and resisting arrest. His lawyer denied the charges.
Chan and Sullivan were in plain clothes but had on clearly marked gray jackets that identified them as police, according to Bratton. They were at the march representing NYPD's Legal Bureau, which ensures the rights of the protesters are protected.
Bratton said the NYPD has spent $22.9 million in police overtime costs in response to demonstrations since the Eric Garner grand jury decision was reported on Dec. 3. The NYPD has made 331 arrests since that date, six of them for assaults on police officers, according to Bratton.
De Blasio also was the focus of a group of demonstrators on Monday night. About 50 protesters gathered outside Gracie Mansion, the official mayoral residence, calling on him to take steps including ending the policy of "broken windows" policing, which means going after low-level crimes as a means of deterrence, to keep people from committing more serious offenses. Other demands included passage of the "Right to Know" act, which would require officers to tell people they've stopped that they have the right not to consent to a voluntary search.
De Blasio was hosting an event at the residence. Many of those attending kept away from the protesters, with a few stopping to get fliers.
Copyright AP - Associated Press