What to Know
Walter Sosa, a registered sex offender in Somerset County, faces charges for allegedly sexually abusing a child for the last 7 months
Fresh criminal charges against him were filed on Aug. 5, but investigators haven't been able to find him
Details on past criminal allegations weren't immediately available; his last known address was in Plainfield, the site of the alleged abuse
Authorities are asking for the public's help in finding a 33-year-old registered sex offender who allegedly sexually abused a child for more than half a year in New Jersey.
Prosecutors say Walter Sosa, a registered sex offender in Somerset County, is charged with aggravated sexual assault, child endangerment for allegedly abusing the child for the last seven months in a neighboring county. The alleged abuse occurred in Plainfield, where Sosa is most recently known to have lived. The fresh criminal charges against Sosa were filed Saturday, but investigators haven't been able to find him.
[NATL-NY]40 Years After Son of Sam's Arrest, Archive Photos Show Dramatic Scenes From One of the Most Notorious Killing Sprees in American History
Investigators believe that he may be moving from place to place in that immediate area, and his aliases include "Walter Osmin," "Sosa Solorzano," "Daniel Soto" and "Danny Soto." Details on the previous criminal case against him weren't immediately available, and prosecutors didn't say whether he knew his alleged victim in the latest case.
Prosecutors have released a photo of the suspect in hopes anyone who lives in the area may have seen him in recent days and can help bring him in.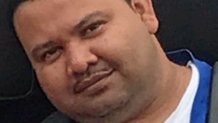 Anyone with information about Sosa's whereabouts is being urged to contact Prosecutor's Office Special Victims Unit Sgt. Timothy Durkin at 973-698-9529 or Detective Nicholas Falcicchio at 908-721-8186.