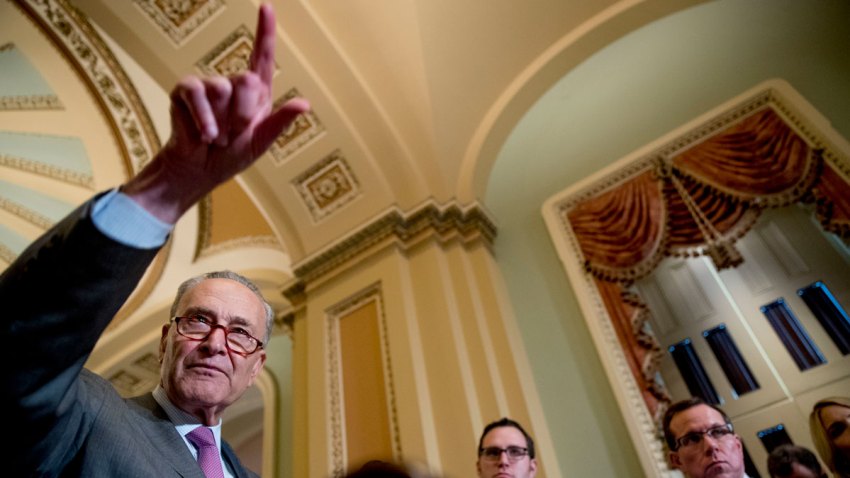 What to Know
Chuck Schumer is pushing legislation that would protect government workers who can't pay their bills because of the government shutdown
The measure would shield workers from eviction or home foreclosure, repossession of their cars and penalties for late payment of bills
The measure was introduced by Sen. Brian Schatz, of Hawaii, and cosponsored by Schumer and 24 other senators
Sen. Chuck Schumer is pushing legislation that would protect government workers who can't pay their bills because of the government shutdown.
He says the measure would shield workers from eviction or home foreclosure, repossession of their cars and penalties for late payment of bills and student loans.
"Across New York City and Long Island, thousands of people and their families continue to suffer through a needless government shutdown that has absolutely nothing to do with the federal agencies they so diligently serve," Schumer said in a statement.
"That is why, amidst another push to open the government, I am fighting with my colleagues for necessary financial protections for impacted federal workers during this shutdown and for workers of any future shutdown, because no federal public servant should have their financial well-being held hostage by a president unwilling to simply open the government in the middle of a debate," he added.
The measure, known as the Federal Employee Civil Relief Act, was introduced by Sen. Brian Schatz, of Hawaii, and cosponsored by Schumer and 24 other senators, according to Schumer's release.
Schumer on Sunday also said he thinks Democrats will block the measure to give the president $5.7 billion for the border wall.
The proposal would also extend temporary protections for some young people brought to the U.S. illegally as children and immigrants who fled disaster zones.
Majority Leader Mitch McConnell is to bring Trump's proposal to the Senate floor for a vote on Tuesday.
Copyright AP - Associated Press