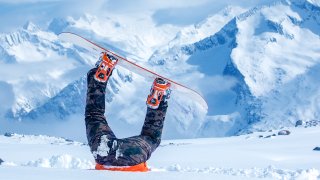 The following content is created in partnership with Rothman Orthopaedics. It does not reflect the work or opinions of NBC New York's editorial staff. Click here to learn more about Rothman Orthopaedics.
For thrillseekers who like to play hard, the year's first snowflake means it's time to bring out the skis, skates and sled. Winter is full of opportunities to enjoy high-intensity sports—but the combination of ice, snow and speed can be hazardous to your health. Find out why sports injuries skyrocket in cold weather and learn how to stay safe while doing what you love.
Skiing / snowboarding
Few sports match the speed, agility, exhilaration and adventure of skiing. But whether you're on a black diamond or the bunny slope, accidents can happen in the blink of an eye. Most injuries are caused by falls, and include fractures, sprains, wounds, broken bones, twisted ankles and "skier's thumb." To help prevent injury:
Stretch and warm up to loosen muscles, tendons and ligaments and help prevent tears
Wear properly fitting gear, including gloves, boots and a helmet
Familiarize yourself with your surroundings, especially snow and slope conditions
Know your abilities and stick to slopes that match your level
Sledding
Where there's snow and a hill, there will be sleds. But while it might seem like harmless fun, sledders can be seriously injured from running into trees or rocks, colliding with other people at the bottom of the hill and sledding on unsafe runs near streets, parking lots, or ponds. Safe sledding tips include:
Choose hills that are free from obstacles and avoid icy slopes, which make for harder landings
Never sled head-first
Make sure your sled has runners and a steering mechanism
Don't push for that last run: injuries often happen at the end of the day when you're tired
Ice skating/ hockey
It takes a unique blend of power and finesse to balance on ice, which is probably why beginners learn how to fall before they learn how to skate. Whether you're doing figure-eights at the community rink or playing a casual game of hockey, you could hit the ice at any minute and go home with injuries like bruising, pulled muscles, ligament tears or cuts. To minimize the risk:
Choose quality skates in the correct size to decrease the likelihood of a twisted or sprained ankle
Wear appropriate protective equipment and get off the ice if you feel uncomfortable or chilled
Learn proper falling techniques and avoid outstretching or locking your arms during impacts
Play it safe: avoid body checking and horseplay and stay out of the center ice if you're a beginner
With a few precautions, you can increase your odds of staying safe and injury-free throughout the winter. But if you do become injured, the expert orthopaedic specialists at Rothman Orthopaedic Institute can help you recover. To learn more, click here or call 1-800-321-9999.