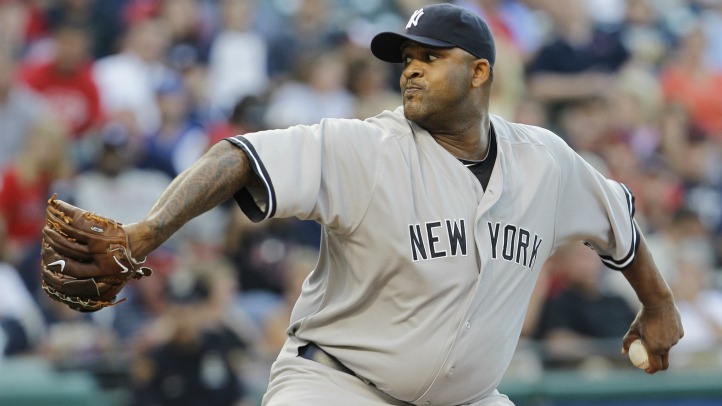 Anonymity is not something that CC Sabathia has experienced all that much is life.
When you're 6'7" and nearly 300 pounds, it is hard to simply blend into the crowd and go about life without making any waves. It is even harder when a left arm of prodigious talent is attached to that oversized body because everybody loves a lefty.
Yet Sabathia has been barely visible for the last week even though he's allowed exactly zero runs in his last two outings. Shutting down the Brewers last week was noticed and then quickly forgotten about as the Subway Series was about to get underway.
Then came Sunday when All-Star manager Ron Washington somehow disregarded Sabathia's first half even though it has been as good, if not better, than anything any other American League pitcher has done.

Sabathia won't be able to pitch in the game as he's pitching Sunday, but that makes his selection even easier as you're essentially choosing two pitchers for one spot.
Sabathia provided his answer to the snub on Tuesday night and he did it in the fashion to which we've grown accustomed. He shut the Indians down for seven innings, allowing no runs for the second straight start and striking out 11 during the 9-2 win.
That means he's now pitched 22.2 innings in his last three starts, allowing one run while striking out 33 and walking just five. That's the kind of string that normally leads to epic poetry, but Sabathia can't even land the back page of a tabloid.
Derek Jeter has first dibs on those for the near future and he got the spot on Wednesday morning thanks to his two hits. That leaves him four away from 3,000 and means that two other members of the team could announce they are going to take advantage of the new marriage laws in New York without getting more than a brief blurb in the local rags.
He'll probably get the same treatment on Thursday morning even if Joe Girardi follows through on threats to rest him before the start of a four-game series with Tampa. That plot twist makes for good copy and it will likely make for good cinema as well.
And so Sabathia toils away far from the bright lights that accompany Jeter everywhere he goes. The pitcher can feel secure that he'll get the last laugh, however.
Just see how much attention everyone pays when he opts out of his contract this winter.
Josh Alper is a writer living in New York City. You can follow him on Twitter and he is also a contributor to Pro Football Talk.
Copyright FREEL - NBC Local Media