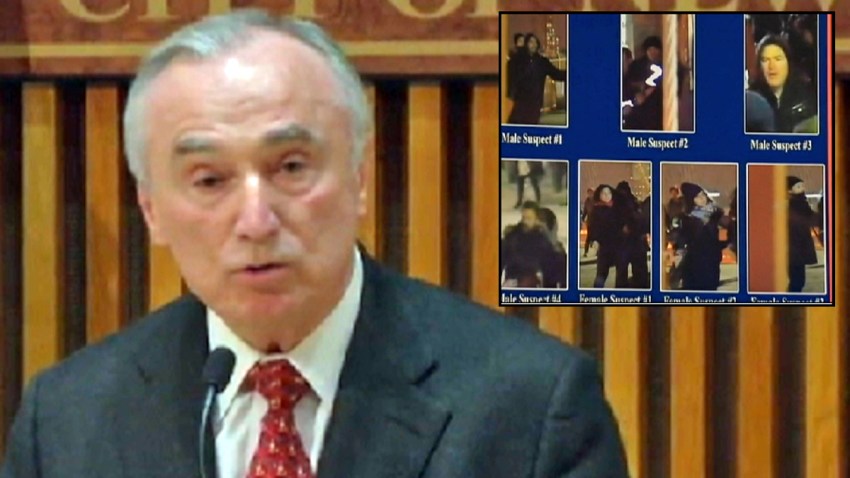 A $12,000 reward is being offered for information that leads to the arrest of the seven suspects seen on a YouTube clip allegedly attacking two NYPD officers during Saturday night's Millions March demonstrations on the Brooklyn Bridge.
COP SHOT, an organization that offers rewards for information on suspects wanted in police shootings, and Crime Stoppers both posted rewards Tuesday, after video was posted online showing several demonstrators attacking NYPD Lts. Philip Chan and Patrick Sullivan.
Police officials initially said Monday they were looking for six people, but after a more thorough review of video that night, determined there were seven people involved in the bridge melee that injured Chan and Sullivan.
Investigators are also looking for several people who witnessed the entire altercation, including two people filming it.
Chan and Sullivan were attacked as they tried to arrest 29-year-old CUNY adjunct professor Eric Linsker, who was allegedly caught trying to throw a heavy metal trash bin over a bridge railing and onto a lower roadway.
Linsker allegedly tried to resist arrest, and seven other demonstrators attacked Chan and Sullivan, allowing Linsker to flee. Four men and three women each either grabbed Chan or Sullivan as they tried to take Linsker into custody, or kicked and punched the officers.
Police Commissioner Bill Bratton said about two minutes passed from the time officers tried to arrest Linsker to when the men attacked, and it was all captured on video. Chan sustained a broken nose, and Sullivan had minor injuries.
Linsker was later arrested after police identified him from belongings inside a backpack he dropped as he ran away. He was released after pleading not guilty to charges of assaulting police and resisting arrest. His lawyer denied the charges.
Chan and Sullivan were in plain clothes but had on clearly marked gray jackets that identified them as police, according to Bratton. They were at the march representing NYPD's Legal Bureau, which ensures the rights of the protesters are protected.
Tens of thousands of demonstrators turned out for the march on Saturday. It followed a grand jury's decision not to indict a police officer in the apparent chokehold death of Eric Garner.
Copyright AP - Associated Press