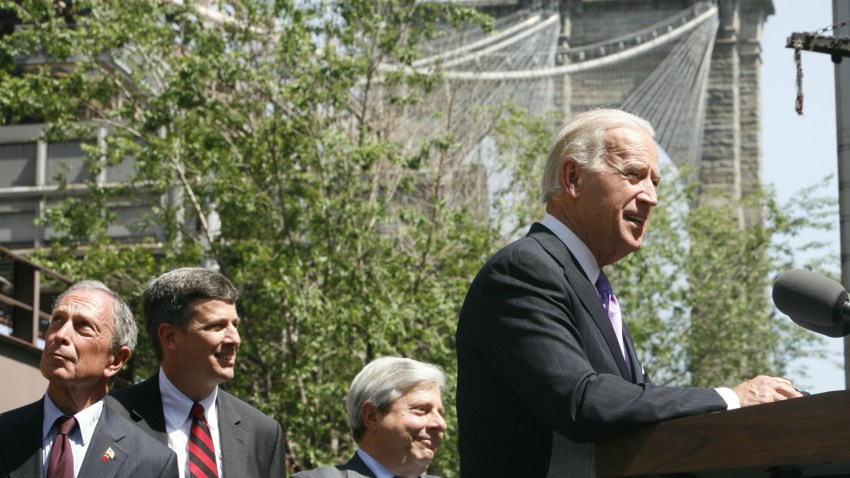 The Brooklyn Bridge just marked its 127th birthday, and as the Vice President Joe Biden announced Wednesday, it only needs a paint job and a little other sprucing up to extend its longevity.
At the Manhattan foot of the Bridge, the Vice President launched the beginning of the four-year long repair project by shaking hands with some of the construction workers.
"This bridge is an emblem of what this great country represents," he said
He was joined by Deputy Secretary of Transportation John Porcari, and Mayor Michael Bloomberg, among other dignitaries.
Biden told the workers, "this, and the Golden Gate Bridge are the two most-recognized bridges in the United States of America and among the most-recognized bridges in the world. And being here to help restore this iconic bridge is a pretty neat thing."
Bloomberg pointed out "it's the first major work on the bridge in ten years, and it will employ hundreds of workers". Besides a fresh coat of paint, approach ramps to the bridge will be widened, and bridge decks wil be replaced.
The project will last four years at a cost of $508 million dollars. Thirty million dollars will come from the federal Recovery Act. The Vice President says the federal stimulus money will allow the city to spend more dollars on other infrastructure projects.
After a state inspection three years ago, the Brooklyn Bridge was rated "poor," although officials insist it's safe.
The repairs mean some lanes will be closed during parts of the day. All Manhattan-bound traffic will be shut down overnight seven days a week.
The city's website has a full listing of all the closures.