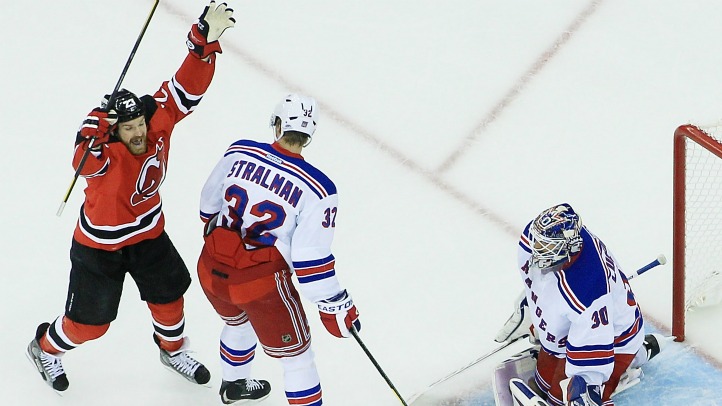 The bad blood started boiling over the weekend, and it bubbled over in the third period on Monday night.
John Tortorella and Peter DeBoer were yelling at each other from their respective benches after Rangers forward Mike Rupp threw a cheap shot at Martin Brodeur. It looked like we might get an all-ice brawl, but the coaches used words to fight the battle and the game resumed a short time later.
The Rangers probably would have preferred the brawl. They were on their way to a 4-1 loss in a game that the Devils dominated throughout, and that means the series is all tied up heading into Game Five.
Watching Tortorella and DeBoer go at each other was high entertainment, but the play that set off their argument was an illustration of just how wrong things went for the Rangers on Monday night. They have been a disciplined team all season -- they win because they are so disciplined -- but they played about as undisciplined a game as you could imagine.
Rupp's play was just stupid, and it came a couple of minutes after Derek Stepan's high stick led to a power play that Zach Parise used to put the Devils ahead 3-0. Parise scored on a rebound after the Rangers penalty kill simply didn't do what it was supposed to do -- either a sign of fatigue, miscommunication or just laziness.
The second Devils goal came with Ryan McDonagh in the penalty box after he was goaded into a fight by Adam Henrique in the first period. It was a good trade for the Devils to get McDonagh off the ice and the kind of play that the Rangers shouldn't be making at this point in the season.
Carl Hagelin took a couple of penalties after the Rupp nonsense, keeping the Rangers on the penalty kill when they should have been making a last push for the win. They got the goal after a great rush by Michael Del Zotto led to a strong shot by Ruslan Fedotenko, which led you to wonder what the Rangers might have been able to do if they weren't killing off penalties all night.
You also have to wonder if Del Zotto should have been anchored to the bench for most of the game after a few giveaways early in the game. Del Zotto's grandmother died Monday, something that might have thrown him so off his game that Tortorella made an adjustment.
That late goal made things a little interesting, as did a Hagelin attempt that Brodeur was able to slap away just in time, but Parise wound up with an empty netter, and the game went to a Devils team that deserved it.
They outworked the Rangers early, something that's been a problem throughout the playoffs and particularly acute in games after victories, and Brodeur made the lead stand up. He was the goalie of the hour on Monday night, besting Henrik Lundqvist, who made one big error -- the rebound to Parise -- and otherwise kept the Rangers close enough to feel like they were in the game.
What should worry them is that they've been outplayed for most of this series with two strong periods and Lundqvist winning them games. At some point they'll need to come up with a more complete performance or there may just be more acting out of frustration to come.
The rough stuff from the third period will likely linger into Game Five, which will be at the Garden on Wednesday night. The Rangers will have to prove once more that they can shake off a bad effort with one that gets them a victory.
Josh Alper is a writer living in New York City. You can follow him on Twitter and he is also a contributor to Pro Football Talk.
Copyright FREEL - NBC Local Media