A property manager in a Queens building has been plastering hateful posters and political propaganda all over the lobby, amounting to what residents call tenant harassment.
Posters paying homage to the Confederate Army and to World War II dictators like Mussolini and Hitler line the walls of the lobby in the 39th Place condo building in the ethnically diverse neighborhood of Sunnyside. Political posters for the National Rifle Association and supporting President Donald Trump cover the stairwell.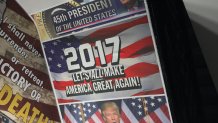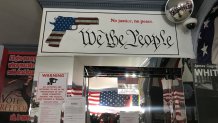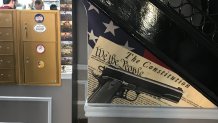 "I actually cried when I saw the Trump mural because it says 'build the wall' on it, and this building is full of people from all over different places, and that statement is loaded with hatred," said one neighbor.
Residents spoke to News 4 anonymously, terrified of retribution. They say the posters and propaganda started small and now has grown to the entire lobby. The building directory even lists infamous Nazis Rudolf Hess and Josef Mengele as residents.
Tenants called 311 but it doesn't seem there's much they can do.
But councilman Jimmy Van Bramer is calling for an investigation into the property manager.
"You cannot do this, and we will make sure the NYPD and the city of New York comes full force against this man and his campaign of harassment and intimidation," he said.
Van Bramer led a rally at the building Wednesday morning, saying the man has created a "house of horrors" for tenants there. Local lawmakers and leaders from the Anti-Defamation League of New York, the Sunnyside Jewish Cetner and the Jewish Community Relations Council of New York were by his side.
Top Tri-State News Photos
"After seeing this lobby first-hand and spending several days with these tenants, I can say without a doubt that they are rightly terrified of a property manager who posts images of hate and racism, boasts of guns in his apartment while hanging posters celebrating guns and the NRA, and who retaliates against anyone who speaks out," he said. "There is nothing patriotic about having the names of infamous Nazis in the building directory or having a large swastika above an apartment door."
An attempt to reach the property manager, Neil Milano, was not immediately successful Tuesday. Messages left with the board of managers were not immediately returned.