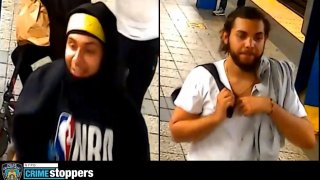 Police are looking for two people they say stabbed a 16-year-old in the face and neck at a Brooklyn station earlier this week.
The victim was waiting for a southbound A train at the Broadway Junction station around 10:20 p.m. Sunday when cops say the duo came up to him and stabbed him multiple times. They then took off on separate southbound A and C trains, cops said.
The victim was taken to a hospital and is expected to survive. Further updates on his condition were not immediately available Wednesday, nor was it clear whether he may have known his attackers prior to the weekend stabbing.
Police released surveillance images of the suspects (above). Anyone with information is asked to call Crime Stoppers at 1-800-577-TIPS.
Copyright NBC New York