Police are looking for two men for allegedly impersonating police while breaking into a home in the Bronx, authorities say.
On the night of June 20, a 61-year-old man woke up to the sound of his front door being kicked open, police said. The victim was confronted by two strangers. When he asked why they were in the apartment, located at Noble Avenue and Mansion Street, one of the men said that they were the police. Then, they quickly left through the front door, police said.
There were no injuries and no personal property was taken from the apartment, according to police.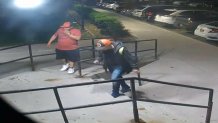 Police released surveillance images of the men in the hopes of catching them, who authorities say are in their 20s.
Separately, the NYPD is looking for information on four men who allegedly impersonated immigration officers in the course of a robbery on July 11 in Williamsburg.
A 25-year-old man was riding a bike when four unidentified men stopped him, flashing silver badges and stating they were immigration officers. Three of them then got out of a minivan, pushed the man to the ground and took $60 from his wallet.
Anyone with information is asked to call Crime Stoppers at (800) 577-TIPS (8477).