Police say a man and a woman pulled up to talk to a girl waiting for a bus in Brooklyn before the man suddenly grabbed her and tried throw her into his vehicle.
The NYPD said they are looking for a 40-something-year-old man and a 30-something-year-old woman who drove up to a 15-year-old girl on 19th Street in South Slope on Friday and began talking to her.
The unidentified man then got out of the BMW, and complimented the girl's dress, police said. He then quickly grabbed the girl's arm and tried to pull her into his car while the woman sat in the passenger's seat, police said.
The teenage girl was able to break free from the man's hold and run away from the duo, according to officials. The suspects then sped off, heading in an unknown direction.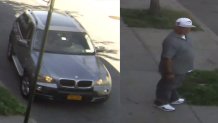 Police said the girl was not harmed in the attempted abduction.
Investigators released surveillance footage from that Friday afternoon of a BMW and the would-be kidnappers they want to find. That video shows a silver SUV pull into the frame and then a man wearing a white hat talking with the victim.
Police said the BMW has New York plates.
Anyone with information about the suspects should call Crime Stoppers at 800-577-TIPS.
Top Tri-State News Photos