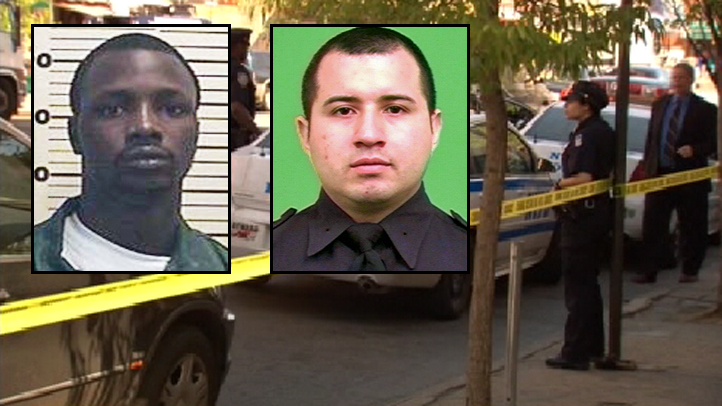 A police officer responding to a 911 call Tuesday in East Harlem was stabbed in the head, neck and arm, with the blade penetrating his brain, Police Commissioner Ray Kelly said.
Officer Eder Loor, 28, was stabbed through the skull with a 3.5-inch blade and had bleeding on the brain that required immediate surgery, Kelly said at a hospital news conference. Doctors were "cautiously optimistic," Kelly added.
The stabbed officer and his partner had been responding to a 911 call by the suspect's mother, who had called police saying her son needed to go to the hospital because he was "acting in an erratic manner."
The officers were escorting the man out of the apartment building when he suddenly produced a knife and began stabbing Loor. The suspect, Terrence Hale, fled but was caught two blocks away.
He has several previous arrests, one for assault with a knife, Kelly said. A law enforcement official said police have been called several times to the home where he lives with his mother.
"Today is another reminder that in a split second, a police officer's life can be placed in great jeopardy," Kelly said.
A law enforcement official who visited with the officer before he went into surgery said the officer was alert but in extreme pain. He also has a severe slash wound to the face that will require dozens of stitches, the official said.
Hale is in custody. He is undergoing a psych evaluation at Metropolitan Hospital. It was not immediately clear if he had an attorney.
Get the latest from NBC 4 New York anytime, anywhere. Follow us on Twitter, Facebook and Google+. Sign up for email newsletters here. Get breaking news delivered right to your phone -- just text NYBREAKING to 639710. For more info, text HELP. To end, text STOP. Message and data rates may apply.