A police officer was shot with some sort of pellet gun in the Bronx Tuesday night, law enforcement sources tell News 4 New York.
It was immediately clear what led to the officer being shot in the hand with a BB or pellet gun in Mott Haven just after 10 p.m. on Third Avenue and East 138th Street, the sources said.
The officer is OK and was treated at the scene.
Police were seen searching the crime scene for evidence.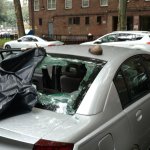 It was the second sort of incident targeting the NYPD on Tuesday, the sources said. Earlier, an officer's personal car in Queens had its windows shot at and blown out by a BB gun. Nobody was injured, sources said.
No suspects have been arrested.
Top Tri-State News Photos