What to Know
Three officers saw a man chasing after another man in Crown Heights and started chasing after them, officials say
The armed man turned toward them with a gun in his hand when an officer opened fire, striking him in his leg, police say
The suspect, a 20-year-old man, was taken to an area hospital, where he is expected to be OK, authorities say
Police officers shot an armed man who was charging at them with a gun in his hand and ignoring their commands in Brooklyn Friday morning, officials say.
Three officers were on patrol in plainclothes in an unmarked car in the area of St. Johns Place and Rochester Avenue in Crown Heights around 1:30 a.m., Assistant Chief Jeffrey Maddrey said at a press conference early Friday at the scene. The officers heard several gunshots about a block away on Rochester Avenue between Park Place and Sterling Place and made their way to the area to investigate.
When police arrived, the plainclothes officers saw a man running away and observed another man chasing him with a gun in his hand, Maddrey said. Officers went after the pair.
The cops saw the man with the gun fire at the other man he was chasing and continued to run him down, which was in the direction of the officers, Maddrey said.
The suspect ignored the officers' command to stop moving, according to Maddrey. That is when a sergeant exited his patrol vehicle and fired his weapon at least two times, striking the man once in the left thigh, Maddrey said.
The shot man continued to run away, dropped his gun and collapsed soon after on St. John's Place, where he was apprehended, Maddrey said. Police recovered the gun, a 25-caliber pistol.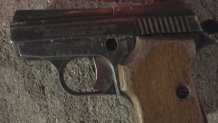 The 20-year-old suspect was taken to an area hospital to be treated, officials said. He is expected to survive.
No officers were injured in the gunfire, but they were taken to a hospital for observation, according to police.
The man who was being chased was not caught, Maddrey said. The suspect who was shot is known to the NYPD and has prior arrests, Maddrey said. It wasn't immediately clear what those arrests were for. His name has not been released.
The city's shot spotter system detected at least six shots fired. All three officers involved in the confrontation are men.
The scene is still very active and at least two crime scene trucks lined the area. Crime scene tape is blocking off Rochester Avenue and a nearby sidewalk.
Police are still investigating whether the suspect ever shot at cops.