Two police impersonators stole thousands of dollars in cash from a Manhattan apartment after the resident let them in to search for somebody, cops say.
The NYPD says on Aug. 17, two women knocked on a 78-year-old woman's apartment door near West 189th Street and Wadsworth Avenue in Washington Heights and identified themselves as police officers.
The fake cops, who were not in uniform but wore police shields around their necks, told the woman at the door they were searching for someone who lived inside the apartment, authorities said. The woman told the duo the person was not home and let them inside to search for themselves, according to the NYPD.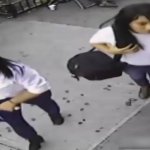 The pair searched the apartment and then left. It wasn't until after they left when the woman discovered the suspects had stolen $10,000 in cash from one of the bedrooms, authorities say.
Police Wednesday night released surveillance footage of the duo in the hopes of catching them before they strike again.
Investigators urge witnesses to call NYPD Crime Stoppers with tips that could lead to an arrest.
Top Tri-State News Photos