What to Know
The NYPD arrested a man in connection with a subway fire that killed a 36-year-old train operator and injured 16 other people in March
Large plumes of smoke were seen billowing from grates above the station at 110th Street and Lenox Avenue in Manhattan at the time
Authorities have been investigating the fire as arson since
The NYPD arrested a man in connection with a subway fire that killed a 36-year-old train operator and injured 16 other people in March.
Police said Nathaniel Avinger, 50, was arrested Thursday after detectives said he set a shopping cart on fire inside a 2 train.
NYPD, FDNY fire marshals and ATF investigators responded to the 1, 2 and 3-train subway station at 110th Street and Lenox Avenue in Harlem shortly before 3:30 a.m. on March 27 after large plumes of smoke were seen billowing from grates on the street.
Emergency responders found three men and one woman suffering from smoke inhalation at the scene. A fifth man, 36-year-old train operator Garrett Goble, of Brooklyn, was found on the train roadbed, according to police. He was pronounced dead at a nearby hospital.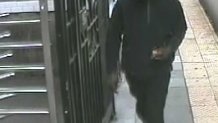 TWU Local 100 President Tony Utano previously said Goble had worked with the MTA for six years, and had a 5-month-old child at the time he died.
"Every transit worker in the city wants justice for Garrett Goble and his family, and this arrest is a huge first step. Garrett was hero, and he was stolen from us," Utano said Friday in a statement.
A total of 16 people aside from Goble, some of them firefighters, were hurt. Police said Goble was killed helping riders off the burning train and onto the platform.
"Nothing will bring Garrett back to NYCT or to his sweet family. We are grateful to the police for their relentless persistence and hard work on this case," NYC Transit's interim president, Sarah Feinberg, said in a statement.
While being walked by police nearly nine months after the incident, the handcuffed Avinger offered no comment as some people screamed "murderer" at him.
"If it wasn't for the pandemic, this story would have been probably the biggest on in New York City for quite a while," said TWU Local 100's Eric Loegel, who was a former classmate and colleague of Goble. "His heroic actions on that horrible night are a reflection of the man, his heroism, selflessness."
The union plans to ask the city and the MTA to make some kind of memorial honoring Garrett Goble.
Copyright NBC New York