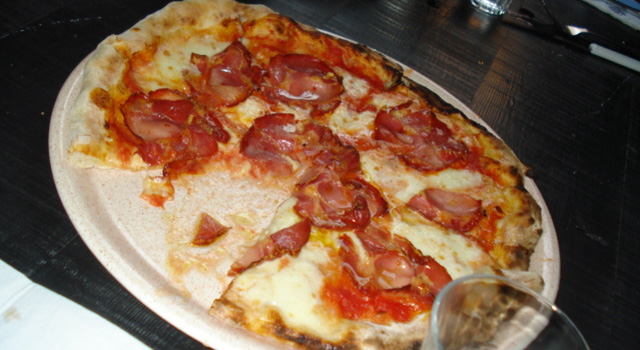 After weeks of hungrily eying the sign over the storefront at the corner of Halsey and Lewis, the denizens of Bed-Stuy descended Monday night upon the opening of Saraghina, the neighborhood's new Neapolitan-style pizzeria.
In a part of town where Papa John's was arguably your least bad option, Saraghina is a welcome addition. The menu, which they plan to expand in the coming weeks, features a slate of pizzas ranging in price from $10 to $15, each big enough to satisfy a hungry diner -- or two reasonable adults.
The Ortolona, topped with eggplant and zucchini, benefited greatly from a light dusting of black pepper, but the Prosciutto & Funghi and Capocollo are both delicious compliments to the pizza's tangy tomato sauce and thin wood-fired crust.
Because the crust, made using the top-secret flour-mixture that was given them by the folks at Luzzo's, is so thin, time is of the essence, which makes part-owner Edoardo Mantelli, he of the Tocca fashion empire, reluctant to do takeout, as the pie quickly goes limp from the center out. But judging from the crowd that clogged his doorway last night, he probably won't have a choice but to let people box it up and take it home.
The market salad last night featured a mix of frisee, baby spinach and endive topped with shallots and cherry tomatoes and drizzled with a mustard vinaigrette.
Plates of cheese or cured meats, as well as dessert, are also available.
Saraghina's liquor license is rumored to be hung up in City hall purgatory, but in the meantime, diners are invited to bring their own wine or beer without incurring a corkage fee. Luckily, Olivo Wines is only two blocks and more than happy to help.
Also on the horizon for the restaurant is a small grocery store and a two-building wide backyard dining area.
Saraghina is located at 435 Halsey, on the corner of Lewis Ave. in Bedford-Stuyvesant