Rail commuters at Penn Station dealt with yet another nightmare commute Tuesday after an Amtrak switch problem took tracks out of commission for New Jersey Transit and Long Island Rail Road riders.
Several LIRR trains were canceled and NJ Transit trains were delayed up to a half-hour throughout the evening rush. A spokesman for Amtrak said engineering crews were working to fix the switch issue on the east end of Penn Station.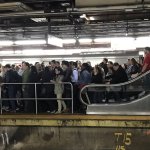 LIRR customers traveling to Hempstead, Long Beach, Far Rockaway and West Hempstead were advised to skip Penn Station and instead take the 2 or 3 subway downtown to Atlantic Terminal in Brooklyn, and then take the LIRR from there. NYC Transit is cross-honoring at Penn Station for the 2 and 3 trains to Atlantic Terminal.
Meanwhile, NJ Transit reported delays of up a half-hour due to the switch problem.
Electronic boards inside the station flashed alerts to LIRR riders warning of the train delays and cancellations as crowds swelled onto the platforms of trains that did arrive.
"Every single night, it's something else with this Long Island Rail Road," fumed LIRR commuter Linda DeHaven of Ronkonkoma. "The infrastructure of this place is ridiculous. Amtrak is inept and they cannot get this running properly.
"It's crazy what we go through every single night, the amount of money we spend as commuters on this railroad. It's outrageous," she said.
Larry Caputo said problems on the LIRR have made life "tough."
"You get to work late, you get home late. It's difficult," he said.
The commute problems are the latest in a series of issues plaguing the aging Manhattan transit hub. Amtrak, which owns the station and leases the tracks to the MTA and NJ Transit, has said it plans to close several tracks for up to eight weeks this summer for infrastructure upgrades and other work.
LIRR hasn't released its schedule surrounding the work -- although Amtrak has said track no. 9, 10, 11, 12, 13 and 14 will all be subject to closure -- but commuters are already dreading what Gov. Andrew Cuomo has anticipated will be a "summer of hell."
"If we think today's commute sucks, can't wait to see what this summer track work has in store for us #lirr," tweeted Kevin Lui.
NJ Transit commuter Bill Meehan of Berkeley Heights says he's planning to work from home more often this summer, since his route will be affected by the work.
"I can work from home, I have that option," he said. "I feel bad for people who have to come in to work to get paid."