What to Know
The artist, city sculptor Alex Gardega, placed the statue around 9 a.m. Monday and pulled it three hours later so it wouldn't get taken
It was erected right next to the "Fearless Girl" statue; the dog was positioned with its leg up, as if to urinate
Gardega said the girl wasn't made by some individual artist making a statement, but made by a billion-dollar finance firm with an agenda
There was a brand new statue down on Wall Street, but this one didn't last long.

A New York City sculptor, Alex Gardega, claims he put a statue of a dog right next to the "Fearless Girl" that was placed across from the iconic "Charging Bull" earlier in the year.

The statue, named "Sketchy Dog," was standing next to the wildly popular statue of a young girl staring down Wall Street's famous "Charging Bull" with its leg up as if to urinate. Gardega said that he removed the statue around 12 p.m. Monday, about three hours after he put it there.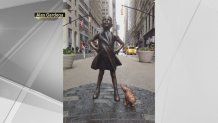 "I took it away personally," he said. "I didn't want to leave it to be taken and certainly had no rights to bolt it to the ground. Most people were amused or perplexed by it."
[NATL] Top News Photos: Pope Visits Japan, and More
Gardega said the "Fearless Girl" wasn't made by some individual artist making a statement, but made by a billion-dollar financial firm trying to promote an index fund.
"I have a lot of empathy for the creator of the bull, Arturo," Gardega told NBC 4 New York early Tuesday. "I'm a pretty happy person, not seething or angry and certainly not anti-feminist. My piece is not without a sense of humor. There is plenty of room for Fearless Girl it just interferes with another artists work/vision."
The "Fearless Girl" was put in front of the "Charging Bull" for a short-term stay in March for International Women's Day.
Mayor Bill de Blasio had said later on that the statue could stay a bit longer.
Top Tri-State News Photos