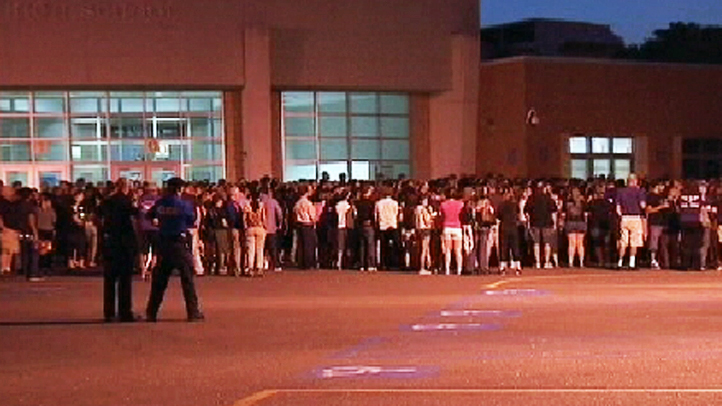 Hundreds of devastated students, teachers and friends gathered for a vigil at Old Bridge High School in Matawan, N.J. Friday night, mourning the two young people killed in the Pathmark shooting earlier that day.

"I never expected this to happen in Old Bridge," said Sophie Nieto-Munoz, who organized the vigil. "I've heard about it in New York, Colorado. But because it's Old Bridge, it hits home."

Christina LoBrutto, 18, and Bryan Breen, 24, were shot dead by supermarket co-worker Terence Tyler at the Old Bridge Pathmark at about 4 a.m. They were not specifically targeted, authorities said, but were in the general line of fire.

LoBrutto and Breen both graduated from Old Bridge High School. LoBrutto, who was a horn player in the school band, graduated this year, Schools Superintendent Timothy Brennan said. Breen graduated in 2006.

Nieto-Munoz called LoBrutto outgoing and funny.

"You couldn't be around her and not smile," she said.

Brandi Vedia, who worked with Breen at Pathmark, said he was also known for his humor.

"You could always go to him for a laugh," said Vedia. "It's so tragic to see him go, and so suddenly."

The vigil was held just days before the start of the school year on Wednesday. Teachers were grappling with how to deal with the sudden blow to the community.

"I plan on talking to my classes about it," said John Meyer. "We'll talk about this and go on from there."

The reality is slowly sinking in for the close-knit town 30 miles south of Manhattan.

"It's hard enough to see on TV, but when it comes so close to home, it's hard to believe," said Vedia.
Get the latest from NBC 4 New York anywhere, anytime: iPhone/iPad App | SMS Alerts | Twitter | Facebook | Google+ | Instagram | RSS