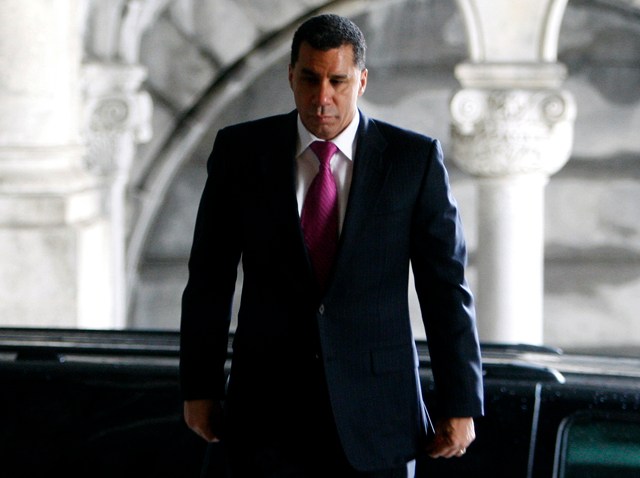 Gov. David Paterson continued to publicly defend a top aide even after learning of a police report describing domestic-violence allegations against him, resorting to disciplinary action only when he found out a newspaper article was about to reveal the charges, according to a new revelations.

The governor's staff began probing the allegations after Sherr-una Booker, the woman who accused aide David Johnson of assault, refused to endorse a statement saying the couple's breakup was nonviolent.
Paterson himself helped draft the statement, outlining key points for former press secretary Marissa Shorenstein to include, sources familiar with the governor's role in the abuse case told The New York Times.

Shorenstein joined a bevy of high-level Paterson administration officials to resign in the wake of reports the governor's office allegedly interfered with the abuse case.
The Attorney General's office is currently conducting an investigation into the matter.

And now new details are unfurling about how much – and when -- Paterson knew about the allegations against his aide.

The Times reports that aides immediately informed him once they got wind of what some called a "shocking" police report that Booker filed detailing the alleged vicious Halloween assault and the temporary restraining order she obtained thereafter.

But Paterson continued to support Johnson and, throughout the week, upheld his earlier characterization of the incident as not much more than a bad breakup.

He stood by a statement he issued on the morning of Feb. 17, in which he said, "There is no independent evidence presented that would substantiate any claims of violence committed by David Johnson against a woman."

On Feb. 18, the governor adamantly defended Johnson on WOR-AM, telling John Gambling that while the aide had been arrested when he was younger, "there has not been an accusation made against him since."

Less than a week later, an imminent Times report documenting the details of the abuse allegations as described by Booker and court papers forced Paterson's hand. He suspended Johnson without pay.

The governor has declined to comment on his role in the fracas, citing the ongoing investigation by the attorney general's office, which is now being overseen by and independent counsel, former state Chief Judge Judith Kaye.

Paterson and his attorneys maintain he did nothing unethical.

"The governor has not done anything wrong, and he looks forward to the conclusion of Judge Kaye's investigation," Paterson attorney Theodore Wells reiterated in a statement to the Times Thursday night. "Governor Paterson will answer all questions on all issues before Judge Kaye at the appropriate time. In the meantime, he will not comment on a piecemeal basis to incomplete and often factually inaccurate press reports."