A woman has died and two others critically injured after a small aircraft crashed into a pier in Queens Saturday afternoon, FDNY officials confirmed.
Emergency crews responded to the pier near the Long Island Sound for reports of a plane down around 3 p.m. The FNDY confirmed three people were aboard the single-engine seaplane at the time of the crash. The woman who suffered fatal injuries was identified by police as 61-year-old Maggie O'Neill and the pilot was identified was Giuseppe Oppedisano, 61, the owner of a Queens restaurant Il Bacco.
Oppedisano and the other passenger, who was only identified as a 66-year-old man, were already out of the plane when the first crews arrived at the scene, according to an FDNY spokesperson. All three were rushed to nearby hospitals when O'Neill died.
Authorities said witnessed described the plane traveling "rather fast" along the water before it skipped twice and hit the pier. Nearby jet skiers who saw the crash rushed over to help the injured passengers.
"I just hopped the fence, I ran over, I ripped the windshield out and pulled one of the guys out," said Jarrett Schupak, who was treated for minor injuries after rushing to help.
Neighbors say the pilot lives nearby and frequently flies the seaplane in the area.
There were no obvious signs of serious damage to the pier located near Riverside Drive in the Whitehouse neighborhood of Queens. The plane's remaining fuel was offloaded by the FDNY's HazMat unit, said Fire Commissioner Daniel A. Nigro.
The FAA confirmed the crash of a single-engine Cessna 182 around 3 p.m. Their spokesperson said that NTSB investigators were notified of the crash and would determine its cause.
It was not clear what may have caused the plane to land on the pier.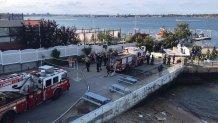 Copyright NBC New York