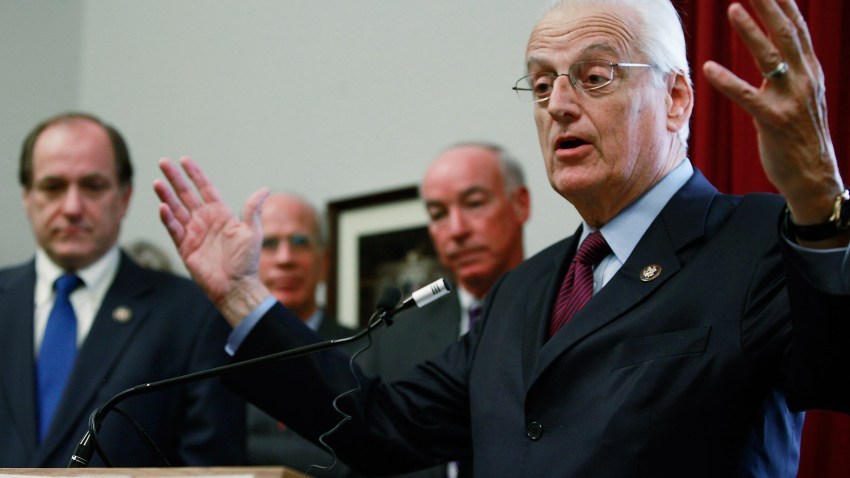 The same congressman who whacked "The Sopranos" is now taking on the House leadership for butchering the health care debate.

Rep. Bill Pascrell has called fellow Democrats "arrogant" and referred to a key party talking point as "BS." He slammed deals cut by leadership and special interests and said, "We're not going to accept that any longer."

Agitated and unfiltered, Pascrell has become the guy who's not afraid to go public with what many rank-and-file House Democrats have been saying behind closed doors.

"The people in Massachusetts sent a clear message," he said. "If we didn't get it in New Jersey or Virginia, we should've gotten it, certainly, Tuesday."

The white-haired New Jersey Democrat isn't known for taking on his own leaders. His past high-profile causes have focused on entertainment. He blasted the HBO hit show "The Sopranos" for degrading Italians. He took on Ticketmaster for allegedly withholding tickets and redirecting buyers to a pricier subsidiary during Bruce Springsteen's 2009 tour.

But now he's turning his fire on his own party.

In a front-page POLITICO story Friday, he said he'd like to see White House chief of staff Rahm Emanuel "come out from behind his desk" to talk to the common folk more.

Everyone knew there were cracks in Democratic unity, but Pascrell's attacks — delivered to a handful of reporters late last week — reveal that the cracks are closer to a gaping hole.

Democratic aides will chalk up this kind of talk to frustration with a process that's slogged on for way too long. But Pascrell is not the only Democrat expressing ire and angst. Establishment senators like Chris Dodd (D-Conn.) are saying that Congress should take a month off from health care. House leadership is "whistling past the graveyard," added Rep. Anthony Weiner (D-N.Y.).

Pascrell can get away with being the tough guy. Since 1998, he hasn't won an election with less than 62 percent of the vote. He is a relatively safe Democrat who is trying to grab hold of a process that he sees as having gone awry.

"It's so complex; we made it complex," Pascrell said of the health care debate. "And we knew this from the very beginning."

Pascrell is not a disloyal Democrat — he voted for the House health care bill, public option and all. After the bill passed in November, he was seen on the floor hugging House Speaker Nancy Pelosi (D-Calif.) and exchanging pleasantries with House Majority Leader Steny Hoyer (D-Md.).
But now he's proclaimed that both the House and the Senate bills are dead. And from someone of Pascrell's ilk, that cannot be good for Pelosi and Hoyer.

Pascrell, 73, is sort of a Jersey Everyman. He's a former high school teacher who became a college professor, and his pre-Washington political career included stints on a board of education and in the New Jersey General Assembly. He was mayor of Paterson, N.J., for six years before beating a one-term Republican incumbent for a House seat.

When at home in New Jersey's 8th Congressional District — which cuts a swath through the northern part of the state, just west of Manhattan — he frequently makes the 20-mile trip east to the Bronx to root — or scream, depending on whom you ask — for Fordham University's basketball team.

His frustration with the House leadership has made him "tired" of the process, and now he's going public with a proposal to radically remake the health care bill.

Pascrell, a member of the influential House Ways and Means Committee, is proposing to split the legislation into several parts, and he's reached out to the Republican leadership about this idea. His plan would be the anti-Pelosi: no public option, no individual mandates and no new entitlements. It would contain some widely popular reforms, including expansion of high-risk pools and the elimination of rescissions.

Twenty-five Democrats are on board with it, Pascrell said, but he declined to name any. And he insisted that the continued effort to salvage a comprehensive health care package is a dead end.

Pascrell has tried to maneuver behind the scenes, saying, circumspectly, that he "presented" Chairman John Larson (D-Conn.) with "ideas about how the Democratic Caucus runs." He wouldn't get into exactly what those ideas are.

Perhaps most frustrating is how Democrats have handled the flagging support for the overhaul legislation.

"We are arrogant when we say, 'Well, as soon as the public understands what we're doing, they'll like it,'" he told a clutch of reporters. "That is not only arrogant, it's BS."

Rank-and-file Democrats are "tired of hearing about and not knowing about" the deals that leadership cut with industries for their support of this legislation, Pascrell said, and in expressing that, Pelosi became Pascrell's prime target.

"We're not going to accept that any longer," he said. "In fact, if you go back to those agreements, they should've been much more robust; talk about robust — those agreements should've been more robust."
Copyright POLIT - Politico