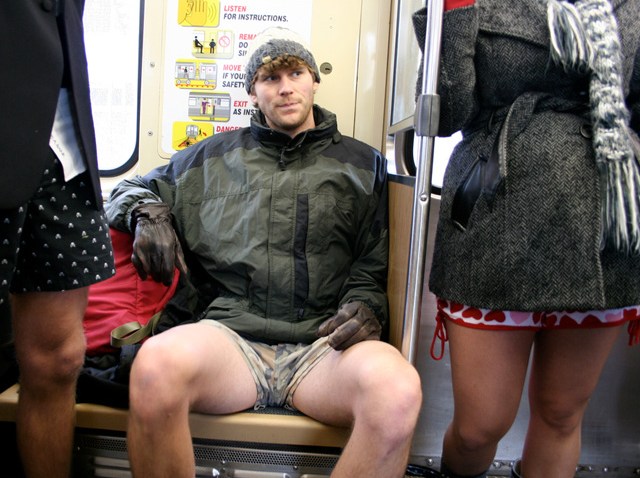 If you happened to be on the A train at 4 p.m on Sunday you might have noticed something a bit odd. A bit bold.
In the middle of another brutally cold Sunday on the rails, groups of passengers pulled their pants down and took them right off.
It was all part of practical joke called "No Pants Subway Ride."
"Improv Everywhere" group organizer Jesse Good explained the purpose is, "to create scenes of chaos and joy and to put a smile on New Yorkers' faces."
That they did. Thousands of riders on myriad subway lines around the city started unzipping right in front of unsuspecting passengers. Similar pantless events took place on DC's metro, in San Francisco's BART, Chicago's CTA and in Baltimore.
This is the 9th year that Improv Everywhere has convinced random strangers to gather for this pants-shedding event.
The first year attracted seven participants. This year they estimate 4 to 5 thousand New Yorkers got on subways in Brooklyn, Queens and Manhattan determined to take their pants off.
"It was weird, I don't know," said straphanger Zach Williams. "I'm from New Jersey, not New York, so I'm keeping my pants on."
Georgianna Hicks came all the way from Philadelphia for the occasion. "I'm cold but I'm not really nervous," Hicks said. "I really like improv in general and I really like the crowd reaction."
Pantless rider Vivian Feldman says planning is key. "We went shopping special for the occasion," she said. "We went for a more modest cut than usual, but still panties."
At Union Square, the bare-kneed passengers exited their cars and walked up into the open air of the park to celebrate their success.