Outrage mounted Friday over vandalism to newly unveiled George Floyd statues in Brooklyn and Newark, New Jersey, as the former Minneapolis police officer accused of murdering the 46-year-old father of five was sentenced to more than 22 years in prison — a punishment that some didn't believe was harsh enough.
Ex-cop Derek Chauvin, who was found guilty of second-degree unintentional murder, third-degree murder and second-degree manslaughter at his April trial, was sentenced after he broke his yearlong silence to offer condolences to the Floyd family and express hope that they eventually have "some peace of mind."
It is one of the longest prison terms ever imposed on a U.S. police officer in the killing of a Black person. Still, Floyd family members and others were disappointed. The sentence fell short of the 30 years prosecutors had requested. And with good behavior, Chauvin, 45, could get out on parole after serving two-thirds of his sentence, or about 15 years.
One of Floyd's brothers, Rodney Floyd, called the sentence a "slap on the wrist."
"We've suffered a life sentence for not having him in our life, and that hurts me to death," he said.
Another brother, Terrence Floyd, said he was "a little leery about the sentencing" until he had a dream in which his father appeared.
Bridgett Floyd, George Floyd's sister and founder of the George Floyd Memorial Foundation, said the sentence "shows that matters of police brutality are finally being taken seriously."
"We have a long way to go and many changes to make before Black and brown people finally feel like they are being treated fairly and humanely by law enforcement in this country," Bridgett said in a statement released Friday.
Floyd family attorney Ben Crump said the family had gotten "some measure of accountability" but is hoping Chauvin gets the maximum at his upcoming federal civil rights trial. Crump said this was the longest sentence a police officer has ever received in Minnesota.
But he added: "Real justice in America will be Black men and Black women and people of color who will not have to fear being killed by the police just because the color of their skin. That would be real justice."
Many, including tens of thousands in New York City, applauded the initial verdict -- and frustration is growing as the NYPD's Hate Crimes Task Force searches for the vandals who defaced the new George Floyd sculpture on Flatbush Avenue.
The vandalism to the Flatbush statue, which was unveiled on Flatbush Avenue last weekend amid the city's Juneteenth celebrations, was discovered Thursday morning, the NYPD said. Much of it had been painted black.
The name of a group considered to be a white nationalist hate group by the Southern Poverty Law Center was spray-painted on the statue's pedestal. Police released images of four suspects on Thursday, one of whom appeared to be shaking a spray paint can as they walked along Glenwood Road and Flatbush Avenue shortly before and after the vandalism took place.
At that same statue on Friday, which had since been cleaned up, many voiced frustration initially over the vandalism, and then more-so at the perceived light sentence.
"I am currently shaking because this is ridiculous," said Ashley Sharpton, daughter of Rev. Al Sharpton. "We've been in the streets all summer, all year, demanding justice. We just gathered people last August, 200,000 in the middle of a pandemic. Not a piece of violence and nobody got hurt. And it still wasn't enough ... This is an outcry and a disrespect to justice."
Many said they were hoping Chauvin would get twice as long of a prison sentence. The corner served as a rally point all afternoon, not only to discuss the sentencing, but also race relations in the city and country. The speakers closed out the day by telling those in the audience to soak in what happened on Friday, and decide what they can do to help create change.
Another tribute to Floyd, whose death sparked months-long national protests in 2020, was also discovered vandalized early Thursday across the river in Newark.
The 700-pound bronze statue in Newark, which debuted earlier this month outside city hall, had the face painted black, with the name of the same hate group painted in white on the front.
"The defacing of the statue of George Floyd has been a trend around the country," Newark Mayor Ras Baraka said in a statement. "This horrible act is the very reason that this statue needs to remain and be upheld. As this is not just about George Floyd, it's a deliberate effort to push back against and ultimately dismantle systems of hatred, racism, and white supremacy."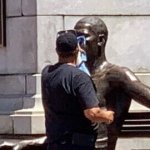 A police sergeant discovered the vandalism just before 6 a.m., and the city's Public Works Department removed the paint. Public Safety Director Brian O'Hara said an investigation is ongoing to find who may have been responsible.
It's unclear if the incident is directly connected to the Brooklyn vandalism but they both came just ahead of the widely anticipated Chauvin sentencing.
Anyone with information on the Brooklyn vandalism is urged to contact Crime Stoppers at 1-800-577-TIPS. Anyone with information regarding the Newark vandalism is asked to call Newark's tip line at 1-877-NWK-TIPS (695-8477).
Copyright NBC New York