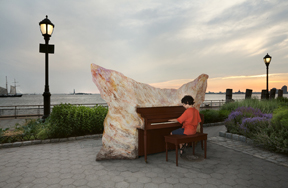 Feel like tickling a little ivory?
Show off your musical talents this summer on any of the 60 multi-colored pianos that were placed on corners, sidewalks and in parks throughout the five boroughs this weekend.
The music nonprofit Sing for Hope set up the pianos with the words "Play Me, I'm Yours" painted on them for New Yorkers'enjoyment.
Thirty pianos were rolled out in Manhattan and the rest were dropped off in the other four boroughs, from the Staten Island Ferry Terminal, to Van Cortlandt Park, to Athens Square Park, to Prospect Park.
"People love the idea that they can go out on the street and do something they learned as a child," said Emily Walsh, director of operations for Sing for Hope.
Passersby will be able to take part in this past-time from June 21 to July 5. Today, New York City musicians will play on the pianos as part of the 1,000 concerts that are scheduled for the city's Make Music New York event.
"We had a lot of pressure to put this on in a short amount of time," said Walsh, adding that Sing for Hope initially approached city officials with a plan for 20 pianos in August.
Mayor Michael Bloomberg's office fully endorsed the project from the get-go in February and helped the organization plan for an earlier set-up date and more pianos, which they got from various warehouses and Tri-state area dealers.
"Everyone was really excited about it," said Walsh.
Crews from the Camel Piano Moving Company are pitched in by installing the pianos this weekend and tying them down with two 90-pound cinderblocks or roping them to lightposts and fences with aircraft cable. Each piano is worth about $100 to $200.
To guard against rain, each piano has been assigned a caretaker who will cover up the instrument with a tarp on bad weather days. But if the pianos aren't covered, and it starts to rain Walsh asked that city residents cover them up.
The piano caretakers are also charged with opening up the keys at 9 a.m. and closing up shop at 10 p.m. (8 p.m. in residential areas).
"People have concerns [about noise pollution], and they were taken into consideration," said Jennifer Lantzas, public art coordinator for New York City Department of Parks & Recreation.
British artist Luke Jerram conceived "Play Me, I'm Yours" in Birmingham, England, and then it spread to London, Sao Paulo, Bristol, England, and Sydney. This summer, it will take place in London at the same time as New York, and a transatlantic duet will be performed in Times Square on July 1 at 12 p.m.
New York's "Play Me, I'm Yours" project, however, is twice the size of London's. It's also a first for New York City parks, which will be hosting most of the pianos, 32 exactly. The city parks department had a "Parade of Cows," or fiber glass statues of cows, set up in 2000, but it has never had an interactive arts experience like this.
"It's a really big undertaking," said Lantzas. "I think that all of the locations that they've chosen are going to be really fun."
When it's over, Sing for Hope will donate some of the instruments to local schools and auction off others to raise funds. Students and volunteers painted the pianos at the organization's warehouse in Tribeca.
"We're hoping that this will become an annual event," said Walsh.