New York Gov. Andrew Cuomo announced Tuesday that One World Trade Center would be adorned in Belgian flag colors Tuesday night, in a signal of support for the nation reeling from a deadly terror attack.
"Tonight, One World Trade Center will be displayed in black, yellow and red as we stand in solemn solidarity with the people of Belgium, just as they have done for us in the past," Cuomo said in a statement Tuesday afternoon. "We join the world in mourning the victims of these attacks and remain committed to helping create a more just and peaceful world."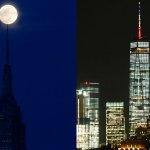 But the spire appeared to be lit in red, white and blue for a period Tuesday night. A Port Authority spokesperson said the spire was initially lit at 10 percent white, which was supposed to darken the spire enough to appear black.
https://www.instagram.com/p/BDQvGSIocW6
After dusk, the lighting was further darkened so the Belgian colors of black, yellow and red were clearly visible, the spokesperson said.
Uptown, the Empire State Building remained dark Tuesday night in sympathy for the lives lost in the Brussels attack.
Other tall buildings and monuments around the world were lighting up in the colors of the Belgian flag as well, including the Eiffel Tower in Paris, the Brandenburg Gate in Berlin and Dubai's Burj Khalifa, the world's tallest building.
[NATL] Global Landmarks Light Up After Brussels Attack
At least 31 people were killed when explosions rocked a Brussels airport and train station Tuesday morning. ISIS claimed responsibility for the attack, believed to be perpetrated by suicide bombers, NBC News reported.
It's not the first time in recent months that the World Trade Center's spire, America's tallest, was used to show solidarity with a nation after a terror attack.
The 408-foot spire on top of the building – constructed after a terror attack leveled the twin towers on Sept. 11, 2001 – was lit up in the colors of the French flag following the November terror attack in Paris.