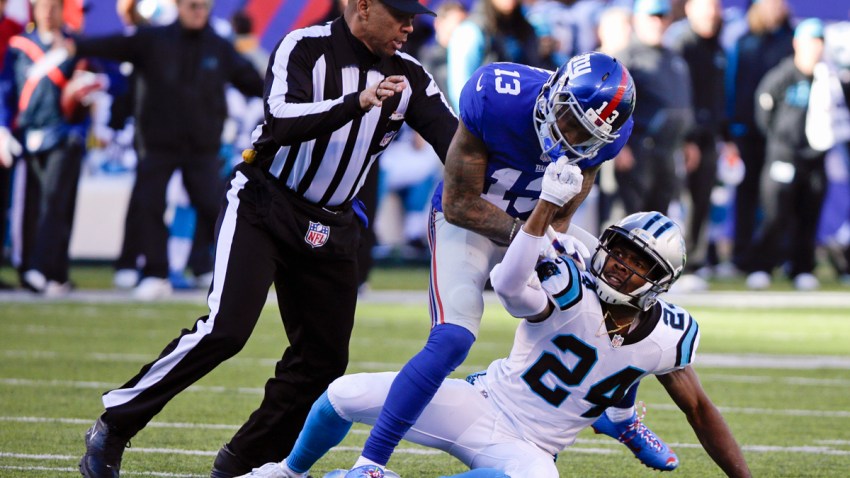 The NFL is suspending Giants star receiver Odell Beckham Jr. one game for his antics in Sunday's loss to the Carolina Panthers, the league announced Monday.

Beckham, a second-year player known for spectacular catches with nearly 1,400 yards receiving and 13 touchdowns on the year, had three personal fouls called against him in a battle with cornerback Josh Norman during Sunday's heartbreaking 38-35 loss to the undefeated Carolina team.

At one point, Beckham delivered a diving helmet-to-helmet hit on Norman while blocking.
There was plenty of pushing, shoving, swinging, wrestling, late hits and trash talking between them.

"At numerous times during yesterday's game against the Carolina Panthers, your actions placed a fellow player at unnecessary risk ... and clearly did not represent the high standards of sportsmanship expected," NFL vice president of Football operations Merton Hanks wrote in a letter to Beckham.

The 6-8 Giants, who still have a shot at winning their division and advancing to the playoffs, will be without their top offensive weapon when they travel to Minnesota for a matchup against the 9-5 Vikings.

Beckham, the 2014 Offensive Rookie of the Year, has the right to appeal the suspension.

After Sunday's game, Beckham refused to discuss his run-ins with Norman. There was no media availability with Beckham on Monday.
Asked about the personal fouls, he said Sunday, "You never want to hurt your team like that. I have learned it all throughout my life you know, always second man gets called, always that it is just unfortunate. You go back and watch the film tomorrow and you learn from it."
Norman was infuriated by the helmet-to-helmet hit and called for the league to look at Beckham's play.
"He was 15 yards down the field and went straight for my head. It was just crazy, man," Norman said.
"He's got the maturity of a little kid," Norman added of Beckham, who finished with six catches for 72 yards and a touchdown and also dropped a sure TD pass in the first quarter.

Copyright AP - Associated Press