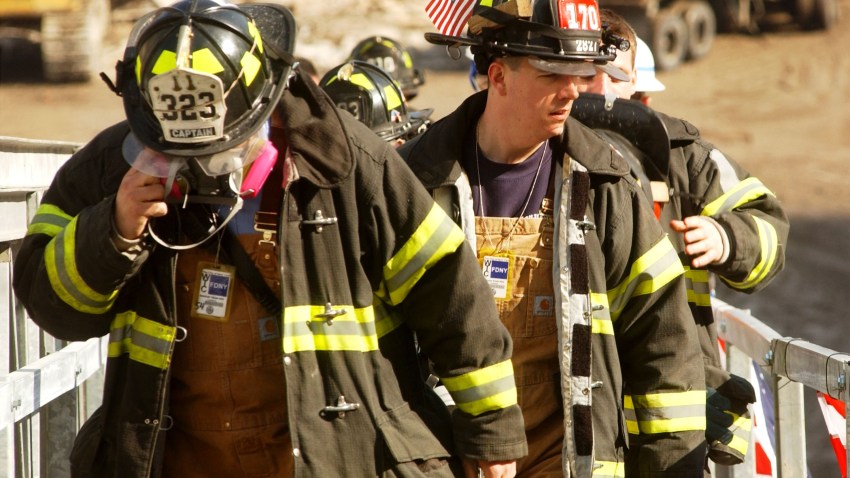 President Obama says he will back the bill that would provide up to $7.4 billion in aid to people sickened by World Trade Center dust following the Sept. 11 terrorist attacks.

The bill would provide free healthcare and compensation payments to 9/11 rescue and recovery workers who fell ill after working in the trade center ruins.
"The President looks forward to signing the 9/11 health bill into law, once it passes both houses of Congress, to help the first responders whose health and livelihood were devastated by the events of Sept. 11," a White House statement said.

This summer, the bill failed to win the needed two-thirds majority to pass the House of Representatives. The vote fell largely along party lines, with a majority of Democrats supporting the measure.
Obama has been mostly quiet on the measure, known as the Zadroga bill. First responders and their families said the statement in support was the first since he took office and it boosts the chances for bringing the bill to another vote in the House in September.

GOP critics branded the bill as yet another big-government "massive new entitlement program" that would have increased taxes and possibly kill jobs.

To pay the bill's estimated $7.4 billion cost over 10 years, the legislation would have prevented foreign multinational corporations incorporated in tax haven countries from avoiding tax on income earned in the U.S.

Bill supporters said that would close a tax loophole. Republicans branded it a corporate tax increase.

Mayor Michael Bloomberg said it was an "outrage" the bill has been stalled in Congress.

"This is a way to avoid having to make a tough decision," Bloomberg said, adding that the nation owes more to "the people who worked down at 9/11 whose health has fallen apart because they did what America wanted them to do."

Researchers have found that thousands of New Yorkers exposed to trade center dust are now suffering from breathing difficulties similar to asthma. Many have also complained of heartburn or acid reflux, and studies have shown that firefighters who worked on the debris pile suffer from elevated levels of sarcoidosis, an inflammatory disease.

Many of the workers also fear that the dust is giving people cancer, although scientific studies have failed to find evidence of such a link.

The exact number of sick is unclear. Nearly 15,900 people received treatment last year through medical programs set up to treat Sept. 11-related illnesses, but doctors say many of those people suffered from conditions that are common in the general public.

The House bill is named for James Zadroga, a police detective who died at age 34. His supporters say he died from respiratory disease contracted at ground zero, but New York City's medical examiner said Zadroga's lung condition was caused by prescription drug abuse.
Copyright AP - Associated Press