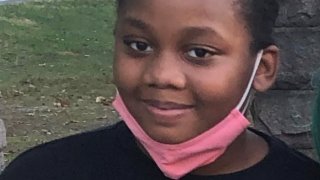 An 11-year-old girl who went missing for hours after getting separated from her mother and boarding a No. 2 train in the Bronx Thursday has been found, the NYPD said after asking for "urgent" help in finding her.
The girl initially got separated from her mom when the two were walking on the street near the Burke Avenue stop just after noon, according to police. She broke away from her mother and into the subway station, where she got on the southbound train.
NYPD Chief of Transit Kathleen O'Reilly tweeted a message seeking help finding her around 1:30 p.m. The message said she may need some assistance.
About four hours later, jusy before 5 p.m., O'Reilly tweeted again saying that Kayla had been found and "is being reunited with her family."
It was not immediately clear where the girl was found, but she was not reported to be harmed in any way.
Copyright NBC New York