UPDATE: Two Arrested in Shooting of 2 NYPD Officers in Bronx
A man suspected of shooting two NYPD officers responding to a robbery call in the Bronx late Monday is in custody, sources familiar with the investigation tell NBC 4 New York, and a second suspect was taken into custody from the Manhattan hospital he went to with a gunshot wound.
A third man described as a person of interest in the case was also taken into custody.
The alleged gunman was picked up in the Bronx Tuesday afternoon, hours after he was allegedly captured on a restaurant's surveillance video opening fire on the officers. The officers returned fire and two of the cops -- 30-year-old Andrew Dossi and 38-year-old Aliro Pellerano -- were wounded.
Pellerano, a nine-year NYPD veteran with more than 500 arrests during his time on the force, was shot in the abdomen and arm near East 184th Street and Tiebout Avenue in Fordham at around 10:30 p.m. Monday, officials said. Dossi, an eight-year NYPD veteran who has notched more than 125 arrests, was shot in the arm and lower back. Both are hospitalized in stable condition, and Police Commissioner Bill Bratton said Pellerano would likely be released Wednesday.
The officers, who were in plain clothes, were part of a group of five cops responding to a call about a robbery at a deli store on East 180th Street in the Bronx, Bratton said. The officers were approaching two suspects who had just entered a nearby restaurant when one of the suspects opened fire, Bratton said. The officers returned fire and two of the cops were wounded, along with one of the suspects.
The suspect apprehended Tuesday afternoon is believed to be the gunman shown clearly in surveillance video obtained from the Chinese food restaurant he had stepped inside; the other suspect taken into custody at NewYork-Presbyterian Hospital in upper Manhattan, where he went with a gunshot wound to the back, is not believed to have fired a gun at the officers.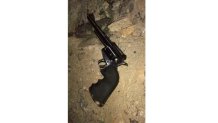 Mayor de Blasio spoke at Tuesday's news conference and thanked the officers for risking their lives to keep the city safe.
"As always, the city of New York and the NYPD will be with them through this challenge and as these officers recover," de Blasio said.
The officers were shot hours after the mayor and the police commissioner held a joint news conference to tout record low crime levels, with overall crime down 4 percent from last year. But shootings were up 13 percent, which NYPD officials admitted were "an area of concern."
Last month, NYPD officers Wenjian Liu and Rafael Ramos were shot and killed while sitting in a patrol car in Brooklyn, fueling tension between police and City Hall. Police unions have blamed de Blasio for permitting protests over police conduct that has, in turn, fostered an anti-NYPD atmosphere they believe contributed to the killings of the officers. The family of the gunman, Ismaaiyl Brinsley, said he was emotionally disturbed and that the shootings had nothing to do with police retaliation.
The organization COP SHOT, Citizens Outraged at Police Being Shot, has offered a $20,000 reward leading to the arrest and conviction of the suspects.
Copyright AP - Associated Press