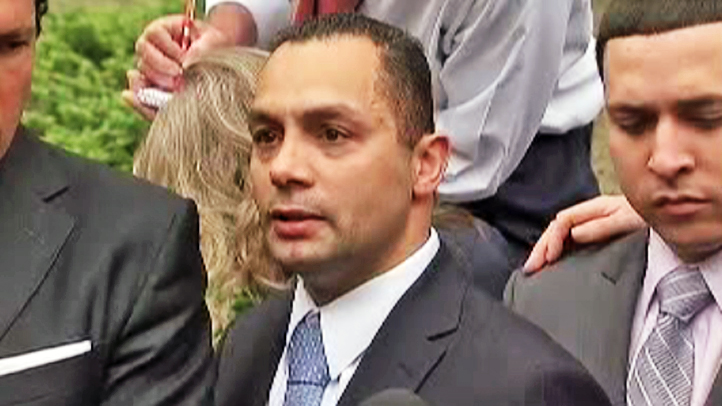 A former New York City police officer, convicted of official misconduct but acquitted of raping a woman, was sentenced Monday to a year in jail.

A grim-looking Kenneth Moreno was led away after the sentence was pronounced in state Supreme Court. However, an appeals court agreed hours later to free him on $125,000 bond during a planned appeal.

Moreno, 43, and another officer, Franklin Mata, 29, were fired from the police department within hours of their convictions in May. But they saw the verdict as vindication in a case they portrayed as a good deed gone awry.

"When law enforcement officers commit a crime, they rip at that fabric that holds us together and you, sir, ripped a gaping hole in that fabric by committing your crimes," said State Supreme Court Justice Gregory Carro. He blasted Moreno's account of trying only to counsel, comfort and cuddle the woman as a self-serving tale.

Moreno said he had gone back to the woman's apartment three times after the first call — even placing a phony 9/11 call about a sleeping vagrant to provide a pretext for one of the visits — only to try to comfort her and give advice about drinking.

"He did not deny that he didn't do his job that night," said Moreno's lawyer, Joseph Tacopina. But "there was never a moment where there was a dereliction of duty in not responding to calls." He pointed to letters Moreno's relatives and others had written to the court, calling him trustworthy, gentle and honorable.

"People don't suddenly earn such praise overnight. It's a hallmark of a life well lived," Tacopina said.

Moreno was accused of raping her while Mata stood watch.

Mata was also expected to be sentenced Monday, but it was adjourned until Aug. 10.

"My world was turned upside-down by the actions of two police officers who were sent there to protect but instead took advantage of their authority and broke the law," the woman, now a 29-year-old fashion product developer in California, said in a statement after the verdict.

The case ignited protests from women's advocates, who saw it as a discouraging example of the difficulty women face in coming forward with a sexual assault complaint.

K.C. Washington, a member of the National Organization for Women's New York board of directors, stood outside the courthouse, holding a sign that said, "NYPD: Protect Women." She said she had been "horrified" by the acquittal. "We can't keep silent," she said. "We're just sending a message to the people who make the policies, and the judges, that it's not OK."

The ex-officers' accuser acknowledged her memory of the night was spotty, but she said she acutely remembered the rape.
And she secretly recorded a conversation days later in which Moreno alternately denied they had sex but said "yes" twice when she asked whether he'd used a condom. Moreno told jurors he was trying to mollify her.
With no DNA evidence incriminating the officers and experts debating the significance of an internal mark found during an examination of the woman, the case ultimately pitted the woman's word against the officers'. At the trial, their lawyers underscored the lack of forensic evidence and the fact that the woman has filed a multimillion-dollar lawsuit over the incident.

"I thought she made the whole thing up," Moreno said after the verdict. In trying to help her, he said, he "made a judgment call ... and I paid for it."
Copyright AP - Associated Press