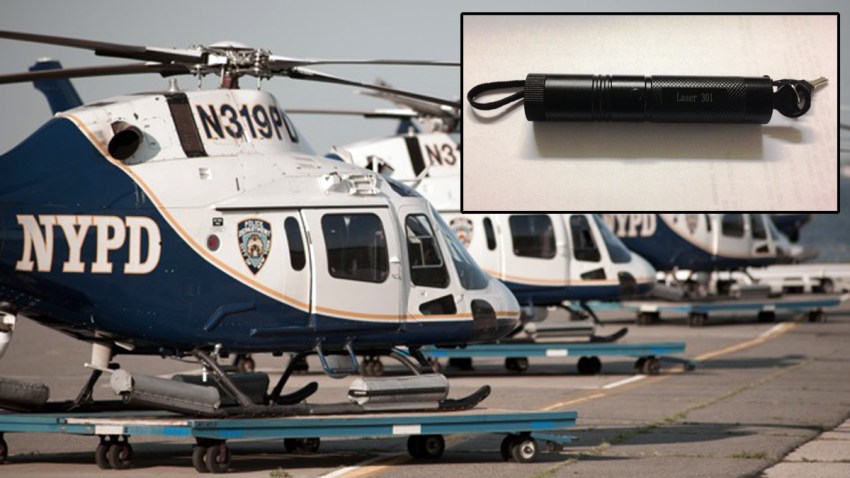 Police say they've arrested two men on felony charges after they allegedly interfered with NYPD helicopters in separate incidents last month, with one allegedly deliberately pointing a laser pointer at a pilot and another allegedly flying a drone too closely to a department chopper.
Police say that 26-year-old Daniel Parris was cuffed on suspicion that he shined a laser pointer at a chopper that was hovering over Jamaica Hills, Queens, during a search for an assault suspect on Sept. 24.
The chopper pilot said that he was hovering about 750 feet over the neighborhood when he saw a green flash that illuminated the entire cockpit, according to the NYPD. The flash forced him to take off the night-vision goggles he was using to conduct the search.
Police say the chopper pilot followed the beam to a man on the ground with a woman, small child and dog. The man then allegedly shined the laser pointer at a nearby school.
Parris is charged with reckless endangerment, menacing and obstructing governmental administration. He was released on bail and is due back in court next week.
The arrest came a week after police arrested 34-year-old Isaac Rosa after a different helicopter crew saw a drone flying dangerously close in the skies above Greene Street in Brooklyn on Sept. 17.
Police say the chopper was searching for a missing person at the time, and a near-collision forced helicopter crews to call of the search. The drone, which was flying at an altitude of 800 feet, later landed in Rosa's back yard on Central Avenue.
Police then seized the drone and arrested the 34-year-old. Rosa is charged with reckless endangerment, obstructing governmental administration and several other code violations.
Attorney information for Parris and Rosa wasn't immediately available.