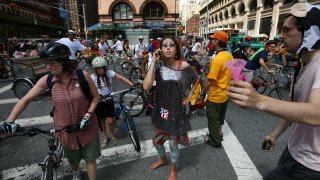 Summer Streets is returning to New York City in August for its 13th year after a brief hiatus last year amid the COVID-19 pandemic.
The otherwise busy Manhattan streets will be turned into a 7-mile-long park for two Saturdays this year for people to play, run, walk and bike for the first half of the day.
The event runs from Central Park to the Brooklyn Bridge, along Park Avenue and Lafayette and Center streets. The fun begins Saturday, Aug. 7 from 7 a.m. to 1 p.m. It will also be held the following Saturday.
As in previous years, there will be several rest stops along the path that have activities and refreshments.
The activities for the 2021 event have yet to be announced, but all will be free for New Yorkers and "designed for people of all ages and ability levels to share the streets respectfully."
In years past, Summer Streets activities have included mini golf, an obstacle course and even a zip line.
Copyright NBC New York