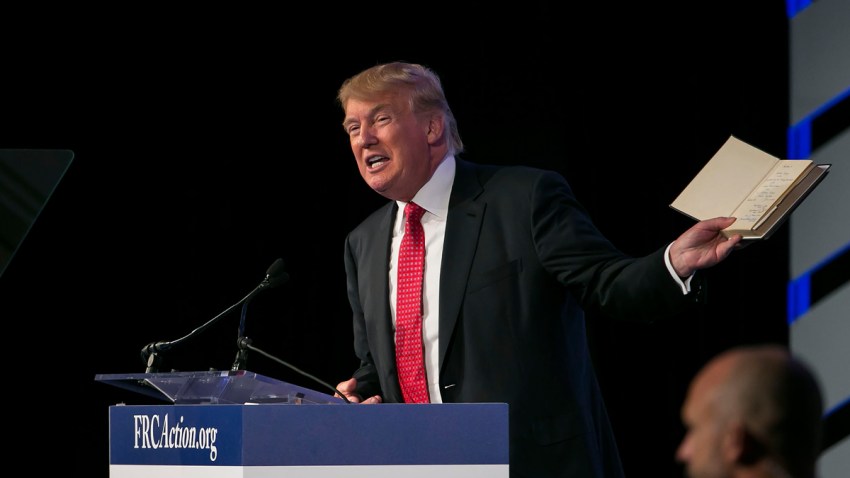 What to Know
Donald Trump is meeting with hundreds of Christian leaders at a Times Square hotel in the hopes of winning their votes in November.
Hundreds of protesters were expected too. Multiple groups said they'd hold vigils and march on Times Square.
Trump's meeting comes a day after he fired campaign manager Corey Lewandowski in the hopes of calming anxious GOP leaders.
Republican Donald Trump appeared to raise questions about likely rival Hillary Clinton's religious faith at a closed-door meeting with evangelical leaders on Tuesday in New York City.
The presumptive GOP nominee, in a video clip of his remarks, appeared to suggest the public doesn't know "anything about Hillary in terms of religion."
He made the remarks in meeting with hundreds of evangelical Christian leaders at a midtown hotel, leading a discussion with former GOP presidential candidate Ben Carson at the Marriott Marquis.
"You know, she's been in public eye for years and years, and yet there's no, there's nothing out there. There's like nothing out there," he told the group.
"It's going to be an extension of Obama, but it's going to be worse because with Obama you had your guard up, with Hillary you don't. And it's going to be worse," he warned.
A spokeswoman for Trump's campaign did not immediately respond to a request for comment on exactly what Trump meant.
My Faith Votes and United in Purpose organized the "Conversation About America's Future." In a press release, the groups said the event aimed to help Christian leaders "better understand [Trump] as a person, his position on important issues, and his vision for America's future." They said it would also help Trump "better appreciate matters of importance to the faith community."
Several groups had announced plans to organize protests in midtown to coincide with the event and expected hundreds of protesters to turn out. The exact turnout numbers weren't immediately clear.
Footage of Trump speaking at the meeting at a Times Square hotel, which was closed to reporters, was posted by attendee Bishop E.W. Jackson on his Twitter feed.
Jackson told The Associated Press that Trump had been talking about the idea that conservatives are constantly scrutinized over their religion, how devout they are and their positons on social issues.
"He was saying in the context that liberals and the Democrats don't get those kinds of questions, they don't get their faith examined in that way," he said.
"He wasn't questioning her Christianity, but he was questioning the implications of her faith, compared to how conservatives tend to have their faith examined."
Clinton grew up in the Methodist church, attending church youth group and teaching Sunday school like her mother. While she doesn't often talk about her faith on the campaign trail, she occasionally quotes biblical verses and mentions her experiences in church.
"I am a person of faith. I am a Christian. I am a Methodist. I have been raised Methodist," she told voters in Iowa in January.
Trump has sometimes struggled to discuss religious issues. He has declined to cite his favorite biblical verse and has toted around a photo from his confirmation as evidence of his Christian upbringing.
But attacking other people's faith appears to be a favorite move in Trump's playbook, NBC News reported.
The pattern looks to have begun with President Obama. In questioning Clinton's religious convictions Tuesday, Trump added an attack of the president, saying "it's going to be an extension of Obama, but it's going to be worse." But even before Trump launched his White House bid a year ago, he was known to regularly cast doubt on Obama's Christianity.
In the posted footage, Trump also takes issue with the idea of encouraging prayers for all leaders.
"I said: Well you can pray for your leaders, and I agree with that, pray for everyone. But what you really have to do is you have to pray to get everybody out to vote for one specific person," he said. "And we can't be again politically correct and say we pray for all of our leaders because all of your leaders are selling Christianity down the tubes, selling evangelicals down the tubes."
PICO Action Fund and Faith in Public Life said they were teaming up to hold a "Faith Over Fear Prayer Vigil" outside the Marquis at 9 a.m. Bend the Arc Jewish Action said it was going to hold a vigil outside Trump Tower on Fifth Avenue, then marching to the hotel and protesting outside.
The groups, which include Christian, Muslim and Jewish activists, said they were protesting the GOP candidate's "hateful narratives" and "terrifying anti-Muslim, anti-immigrant, anti-woman and violent agenda."
Photos from the scene showed a group of people — both supporters and detractors — holding up signs and chanting.
Trump's meeting with religious leaders comes a day after he fired campaign manager Corey Lewandowski in a dramatic shake-up designed to calm panicked Republican leaders.
Lewandowski's approach of "Let Trump be Trump" fueled the billionaire businessman's unlikely rise in politics, but has also led to a souring relationship with the Republican National Committee, donors and GOP officials in recent days.
Trump's campaign on Tuesday also announced the formation of a new "Evangelical Executive Advisory Board" that will advise the candidate "on those issues important to Evangelicals and other people of faith in America," according to a release.
Members of the new group include former Minnesota Congresswoman Michele Bachmann, Liberty University President Jerry Falwell Jr. and Faith and Freedom Coalition leader Ralph Reed.
Copyright AP - Associated Press