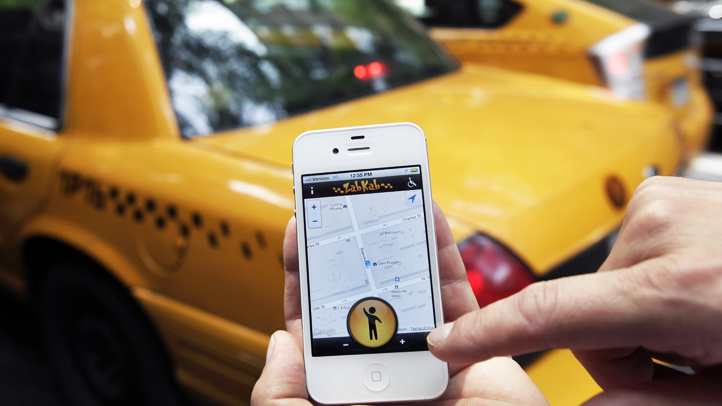 The ability to hail a taxi in NYC is the test of every true New Yorker. But now, like everything else these days, there's an app for that.
Free for passengers, the ZabKab app was released Tuesday for Android devices and iPhones. Users are able to download the app and hit a "hail" button to broadcast their location to available cabs within a 5-block radius.
The GPS-driven app lets passengers who are "hailing" cabs and available taxi drivers see each other for the first time on a map, said Martin Keikel, co-founder of the app.
Currently there are about 1,000 taxis on the road with the app, and ZabKab hopes to expand to the 12,000 other yellow taxis in the coming months.
"We sort of understood that what we need to do is give power back to the passengers in the streets that are hailing for a cab," Heikel said. "And the way to give them some power is to give them visibility to what's around them and let their signal be heard or seen."
It works by broadcasting potential passengers' GPS location to taxi drivers and allowing them to appear on a map, viewable on the app. In order for drivers to see the digital hail, they must also have ZabKab installed.
Drivers are not required to pick up the ZabKab passengers, but it gives them the option to pull over for the digital hail or the street hail, whichever they see first.
"We want all drivers to abide by the rules and regulations that are in place today," said Heikel, when asked about the temptation to ignore regular street hails all together. "And we don't think we've put any incentive in place for them not to do so."
Because the device operates on a cell phone, there are safety concerns regarding drivers using a phone while driving.
Taxi and Limousine Commission officials said the app appears to be compliant with TLC regulations, but reminded drivers they must pull over before checking their smartphones.
Addressing the potential safety concerns, ZabKab said the app screen will gray out for a driver if their vehicle is moving over 10 mph.
"When they're pulling over to drop a passenger off they have a little time, because the passenger is paying, and this is a good time for them to look at their mobile device," added Heikel. "And now when they zoom off, they have an idea where that passenger might be, which could be just around the corner."
The idea of being able to find their next fare faster seems to appeal to drivers.
"It could be a good tool to the drivers because sometimes after the rush hour it's hard to find clients," said taxi driver Roland Sainristil.
"You spend 15, 20, 45 minutes to find clients, it's not good business," he said. "If it's a tool that can help you it could be a good thing for the driver."
Another app feature is the ability to customize hails based on the number of people or the need for a wheelchair-accessible cab. The company also approached 600 doormen in the New York area, offering them specialized access to the application.
The TLC plans to release its own official app in a few months. Its app will be a payment system, but the agency is encouraging developers to think creatively, and there is a possibility the app could have additional features once it rolls out in a few months.
Get the latest from NBC 4 New York anytime, anywhere. Follow us on Twitter, Facebook and Google+. Get our apps here and sign up for email newsletters here. Get breaking news delivered right to your phone -- just text NYBREAKING to 639710. For more info, text HELP. To end, text STOP. Message and data rates may apply.