What to Know
New York City students in grades 8-12 now have to wait until Oct. 1 to start their in-person classes; those in K-5 and K-8 schools are delayed a week
"If it were up to me, I'd send them five days a week," one frustrated parent with kids in 4th and 8th grade said. "I feel like we've got to rip the Band-Aid off here"
Staffing has been a concern; the mayor said he'd add another 2,500 educators on top of the 2,000 extra he already pledged to deploy, but that still falls 5,500 short of the 10,000 unions said they'd need to do the job
Monday's return to New York City schools wasn't the return anyone planned for. For most, it wasn't a return at all.
Only pre-kindergarten and some special education students were scheduled to end a six-month absence from school buildings after a last-minute decision to postpone, for the second time, plans to be among the first big districts to resume in-person instruction after the coronavirus forced students and staff home.
More than a half-million students will ultimately start in-person in school buildings at some point in the next few weeks, but the number of those choosing all-remote has continued to rise. As of Monday, 46 percent of New York City students have chosen all-remote, up from 42 percent a week ago. A month before the start of school, Mayor Bill de Blasio had said about two-thirds planned to go in person.
Schoolchildren in kindergarten through 12th grade still started the new school year Monday, but fully remotely, the same way students in Los Angeles, Chicago, Houston and many of New York's other urban districts have.
In the age of remote learning, as many experienced in the first months of the pandemic when schools quickly pivoted to online learning in unprecedented volumes, students' connection to education in the digital space has the occasion hiccups. The Department of Education reported a temporary outage as students across the five boroughs logged in for remote instruction.
Chancellor Richard Carranza praised the work of the city's "war room" to quickly remedy a 10-minute crash to the DOE login page around 9 a.m. on Monday. He encouraged students and parents to visit schools.nyc.gov/techsupport for technology-related questions.
After a fidgety spring of online pre-K, Jessica D'Amato's 5-year-old son has been so excited about going back to in-person school that he keeps asking: "When am I going to kindergarten?"
First the answer was Sept. 10. Then it was Monday. Now it's Sept. 29, much to the family's frustration. High school students return Oct. 1.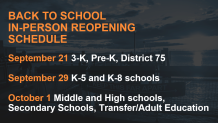 "I think that all the students are really, really at a disservice right now -- because of the uncertainty, because of the lack of in-person instruction," says D'Amato, 35, a public relations manager who lives in Brooklyn. She wonders why the city is still grappling with the staffing shortages cited for the latest delay after having months to plan, and how likely it is that the extra days will solve the problem.
"I can't see how they're going to fix the issue in a week, and I'll be very upset if then they push it again," she said, "because this kid needs to be in school already."
There was also fresh criticism from Gov. Andrew Cuomo on Monday regarding the change in start dates.
"I don't think it's helpful when the change dates and change the plan. Then there's a ripple effect, people have to adjust their lives," Cuomo said.
The estimated 90,000 young students scheduled to return to schools on Monday are expected to test the city's readiness to open the remaining buildings to the majority of students one week later.
Mayor Bill de Blasio greeted pre-K students at a school in Queens and praised the "air of energy and spirit" among teachers and pupils. "To see those children so engaged, so happy to be there, it was truly inspiring," de Blasio said.
After the launch of in-person learning for pre-kindergarten and some special education students Monday, De Blasio said he was "very confident" the city would meet next week's reopening timeline for rest of students attending school.
"I think it's just about continuing to execute the plan that worked this morning," de Blasio said in an interview on NY1 Monday evening. "So real heavy emphasis on the cleaning, the ventilation, the PPE, any last minute problems being addressed really quickly and then making sure the staffing is moved where it needs to be. We've got really ample staffing reserves. It's just connecting them to the right places efficiently and quickly as we go through the week
Teachers and union reps also took a positive outlook after battling for weeks over opening schools, with United Federation of Teachers President Michael Mulgrew saying "it's been a long road for our schools."
But it wasn't all good news and optimism: A school on Staten Island, the Zion Lutheran Preschool, said it was going to be closed until Sept. 30 after a worker tested positive for COVID-19.
Once in-person does start for all public school students, most of the more than 1 million in New York City will be in the classroom one to three days a week and learning remotely the rest of the time.
Daily Percentage of Positive Tests by New York Region
Gov. Andrew Cuomo breaks the state into 10 regions for testing purposes and tracks positivity rates to identify potential hotspots. Here's the latest tracking data by region and for the five boroughs. For the latest county-level results statewide, click here
Source: ny.gov
Before the latest delay, teacher Chloe Davis had spent last week bracing to welcome her fourth-grade class at PS 536, reassured on one level upon seeing the newly cleaned and painted building but so anxious at times she broke down crying. Chief among her worries is keeping her students from picking up the virus and bringing it home to their families.
"Four or five months ago, thousands of people were dying," said Davis, who takes the subway to her school in the Bronx, "and the pandemic is still around. The virus is still there and we're still in the midst of a pandemic."
At least 61 city school buildings have had one or more confirmed cases of COVID-19 among staff, the city's Department of Education said in its Friday update. Click here to see a list of affected schools.
Daniel Leviatin, a fourth-grade teacher and school librarian at PS 59 in the Bronx, sees no reason to push students back into buildings and believes the city squandered the chance to address technology issues and improve distance learning over the summer.
"Every single moment of the planning of this and the way it's been unrolled, is a mess," Leviatin said.
He and Davis said they know other large districts will be watching to see what happens when the students finally return.
"You know how at hospitals and things, they'll do research and they'll pay the participants?" Davis said. "I feel like I'm like part of that, but I didn't sign up for it."
Copyright NBC New York/Associated Press