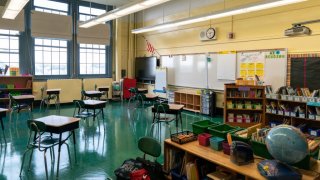 New York City's public school system will conduct special social, emotional and academic behavioral screenings next year for students in 27 neighborhoods hard hit by coronavirus, officials said.
Schools Chancellor Richard Carranza said the screenings, beginning in September, will allow educators to get a jump start on treating mental health issues related to the virus or the disruption of schooling that might linger into adulthood.
The city is hiring 150 additional social workers for the effort and will expand a partnership between schools and the city's public hospital system.
Carranza said he'd like to bring such services to all city schools, but can't currently afford it without outside funding.
Mayor Bill de Blasio's wife, Chirlane McCray, heads up the city's mental health initiatives. She described the new screenings as an important extension of a child's annual pediatric exam.
"Even in the best of times, this is a best practice," McCray said. "Now, after COVID-19, it is more critical than ever."
Last week, de Blasio announced the city would suspend merit-based screening systems for its selective middle and high schools for at least a year to help close the COVID achievement gap.
Copyright NBC New York/Associated Press