It was broad daylight in midtown Manhattan when Julio Nivelo spied the prime opportunity of his decades-long career in crime – the Super Bowl, as he called it, of get-rich-quick heists. A large black pail sat in the back of an armored truck, unmonitored, as oblivious New Yorkers hurried past, its two guards momentarily separated.
He doubled back and watched as one of the guards walked away from the back of the truck. Wearing his lucky Rag & Bone sneakers – his "golden shoes" – he snuck softly onto the metal lift off the back of the truck, heaved the nearly 100-pound pail into his arms and waddled away.
It wasn't until hours later, back in his bedroom in New Jersey, that Nivelo realized the sheer fortune he'd stolen: more than $1.6 million in gold.
***
These days, Nivelo lives with his mother in his native Ecuador, rarely able to move freely around his own neighborhood in Guayaquil for fear of being robbed or threatened. He's gained notoriety in the country for the brazen heist in New York City, and people call him, in hushed tones, "The Golden Boy."
"They know I am the son, the son that went to New York and stole the pail. That I have a million and a half," Nivelo said. "But I have nothing."
Nivelo thought once he'd escaped New York City and the clutches of the NYPD, once he'd set foot back in his native country, it would all be over.
"My big feat, it was leaving the country without being caught," he said.
He'd made it to Ecuador. But he had no idea the NYPD's major case squad had one more play. (MORE: Interactive Map Highlights Gold Bucket Bandit's Brazen Escape Journey)
Note: Locations on map are approximate.
***
Julio Nivelo first came to America in 1989, and it wasn't long before he started pilfering unattended trucks around midtown.
"The first crime, I remember being around 38th Street – a lot of trucks, a lot of merchandise," he told News 4 New York in an exclusive interview in Ecuador in late January. "It was awesome. I was surprised by the number of pallets and merchandise."
Nivelo honed a skill of distracting people during his crimes; he never used tools or violence, just his "rewinding" brain, as he calls it: sharp memory and attention to detail. He'd talk to truck drivers and distract them and take loads off the back of the truck. In the 1990s, it was a lot of laptops, memory drives, floppy disk drives. Then it was jewelry – chains, rings, necklaces – especially around midtown, near Madison or Park avenues.
He developed a taste for the luxe. Nivelo loved to put on business suits and ties, expensive clothing. It was hard to let go of the pursuit for the finer things.
On Sept. 29, 2016, Nivelo was walking on West 48th Street near Sixth Avenue when he spotted something he'd been waiting his whole career for: a black pail on the back of an armored truck. He'd heard about those legendary pails.
"If you were a football player, you always try to play the Super Bowl," he said. "A lot of people knew that gold only came in pails. I knew which companies carry that stuff. Always I was, 'OK. My lucky day will be one day. I'm ready for it."
Not only that, the truck only had two men working it. Nivelo couldn't believe it. Normally there were at least four or five guards assigned to the truck.
"As soon as I saw the two guys, I did feel like that pail belonged to me. Always I had set up my mind that way," he said.
As soon as one of the guards left, it was just the driver. Nivelo knew how long it would take the departed guard to return. He kept watching the driver.
Then, the play: the driver walked away, heading to the cab of the truck to get his cellphone. That seconds-long window gave Nivelo just enough time to strike.
"Boom – he gave me the chance, and it took me like 10 second. As soon as he turned around and he went to his cabin, I went through."
Nivelo knew he had to be stealthy: scratching the iron pail against the metal lift on the back of the truck would make a noise, so he had to lift it "so carefully, so carefully."
Immediately, he was challenged by the weight of the pail, which he figured would be 40 to 50 pounds. It was actually much heavier, about 90 pounds.
"I gotta lift it up, and it wasn't with all my might," he recalled. "I had wishes but not the potential to lift it up all the way."
Nivelo was able to scurry off with the heavy pail. He stopped about every 50 to 100 yards to take a break. He was out of breath, and tired, "so tired."
He knew the area very well -- he just had to make it a little further and he'd be in the clear.
"As soon as I pass Fifth Avenue, I knew the game is over," he said. "I knew it belonged to me. As soon as I crossed it, nobody following me – boom."
Touchdown.
Watch Nivelo explain his tactics and steps in the surveillance video capturing his infamous heist:
***
It was a race against the clock at that point. Nivelo figured he had two or three hours before the company realized it was missing the pail of gold.
"The weird thing was, and the worst thing was when I put in my shoulder, and I felt like something swinging around inside," he said. "Boom to the one side, to the other side."
It was then he realized that there were two gold bars inside the pail. Police at first said that they were gold flakes.
"What flakes? I was laughing," said Nivelo. "It was bars. Two main bars."
Nivelo went home with the gold.
He thought he'd maybe find at most $600,000 worth of gold in the pail. The first person he thought of was his fiancée, who recently had a chunk of cash stolen from a safebox in her home, some of which was Nivelo's. He couldn't wait to share in the new wealth with her.
Nivelo opened the pail and found two big, shiny bars, each at least a foot long. He wasn't immediately excited. He'd come across bars before that turned out to be gold mixed with other metals.
He walked at least 20 blocks to the nearest Home Depot and bought an electric saw and at least a dozen discs. He returned home and spent the rest of the night cutting the bars of gold next to his bed, sweating, feeling the shards of gold pierce his clothing.
The next day, he took a small piece of the gold to a friend on 46th Street in the Diamond District. He confirmed it was good quality and gave him $230,000. Nivelo did the math in his head, and realized he had nearly $1.6 million worth of gold sitting his bedroom. He needed to find a money launderer.
He called his fiancée and told her, "Listen, I got people who are sending me $1 million, and you send the money out and we have to do investments." The two talked about buying a house in Spain – Barcelona or Madrid, maybe.
So he went back to the gold dealer the following day. But this time the man was suspicious. He told Nivelo that police had been going around the area after an armored truck was pilfered the other day. He didn't want to risk paying Nivelo; but, he told him, "I got a Russian guy."
Nivelo had known all along that police would be looking for him; there were cameras everywhere in the busiest area of Manhattan. The next day, he cut his hair and put on a suit as he went to meet with the gold dealer, even as detectives were canvassing the area.
He returned hours later with stacks of cash, now $1.2 million richer.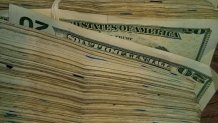 ***
Nivelo first gave $200,000 in cash to his fiancée, as he'd planned. Nivelo then put $600,000 into three shoeboxes, all in $100 bills. The remaining $400,000, made of $50 bills, were stuffed into small bank purses.
Now he had to make his getaway before the feds caught him.
In fact, he'd been deported three times in the past following prison stints in the U.S. He'd spent a total of eight years in federal prisons, in Fort Dix, New Jersey, in Pennsylvania, in Texas, in California. (Nivelo had also been involved for a long time in smuggling rings, both in the U.S. and in Europe, he said. It's not clear if he's ever been convicted in those.) He was always able to sneak back into the country, using stolen passports and various aliases, which explains the multiple names the NYPD initially put out on the wanted posters when they were looking for Nivelo.
For now, Nivelo needed to get out. He packed $40,000 in cash and stashed the rest away in a storage locker in New Jersey. He was driven down to Florida, but he knew there was no way he could take a flight out of there. He was staying with a friend, who informed him that there was now a $100,000 reward to turn him in to police. How much could he offer her instead?
Nivelo promised her $10,000 in cash if she helped him out. He already could rent a car and drive it, he just needed someone to accompany him in case he was stopped. She enlisted her husband – whom Nivelo paid an additional $5,000 -- and the two men took off from Fort Lauderdale toward Los Angeles.
They arrived in California two days after Thanksgiving. Nivelo watched on the news as NYPD Det. Martin Pastor told News 4 in an exclusive interview, "'I will get you, wherever you go.' He knew my real name." Nivelo knew he couldn't stay long in L.A.
"I thought I was done! I didn't trust the Mexicans. I didn't trust the Guatemalans. But I did trust my country," he said. "When we cross the border, I say, 'Bye!' I'm in a safety place."
"I won. I won. The game is over and I won. That's it," he said.
Watch Nivelo detail his dramatic escape from the U.S.:
He was safe from the reaches of the NYPD and the feds in Ecuador, Nivelo thought. Now all he had to do was wait to get his cash; by then, he'd arranged to have the money-filled shoeboxes and purses removed from his storage locker and turned over to his fiancée.
"It's just a matter of time. I don't care, to get the money after three months, after six months, or after a year or two years," he said. "I trust. It's just a matter of time."
Nivelo had a friend pick him up, and they drove to his mother's house in Guayaquil, where he couldn't wait to eat a hot meal and take a hot shower. By then, video of Nivelo's brazen heist was all over the Internet worldwide, and he was very much a wanted man. But Nivelo simply told his family it was all a misunderstanding, that he was wanted for violating immigration laws.
Relieved to be back with his family and no longer in hiding, Nivelo lived a fairly normal existence for about a month.
"I wasn't hiding from nobody because all the problem I left in New York," he said.
Heading to the gym with his brother one day, they went to an intersection in a busy commercial area to grab a cab. Two young men in plainclothes approached and showed their police badges; they asked if he was Julio Nivelo. He confirmed he was.
One of the officers phoned someone, apparently in New York, saying, "We got the guy. We got the guy."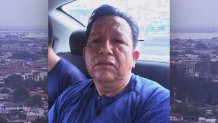 Col. Fausto Geovanny Buenano Castillo told News 4 they'd been investigating Nivelo since they heard he was wanted in the gold theft in New York City: "We cannot allow compatriots to make us look bad out of the country," he said in Spanish.
Once the local police found Nivelo was in Ecuador – made complicated by the lack of any official record of his entrance into the country, since it wasn't registered anywhere – they moved immediately to arrest him.
Nivelo's lawyer told him there was no fighting it; Ecuador wouldn't extradite him back to the U.S., but due to an existing treaty between the two countries, Nivelo would have to serve time for the gold heist. Counting on his clean record in Ecuador, Nivelo figured his time in prison would be short. He got a year, and with good behavior, he was released after nine months.
"Listen, if you commit crime, you gotta pay. So I didn't complain about that," he said.
***
Returning to Ecuador was never part of Nivelo's plan. The last time he was deported there, he'd tried making an honest living as a taxi driver, working regularly and living a normal life. But it was dangerous. He was shot in the face by a couple of teens while they robbed him for a cellphone (he said he can't see out of his right eye as a result, and a scar is visible on his cheek). It wasn't worth it, he thought.
But now, he's trapped 16 to 18 hours a day in a $300-a-month rental with his mother in Guayaquil, lonely, fearful, and missing his three adult children in the U.S.
With his notoriety as "The Golden Boy," and everyone believing he is rich, his mother had to sell her restaurant and her home for fear of being kidnapped or threatened, according to Nivelo.
"I'm getting old. I'm getting old, and it's hard to explain how the things will be fixed," said Nivelo, deep in thought. "I think it won't be fixed, never, ever, but at least I tried to say what really happened."
"I want to be peaceful," he said.
***
So where's the rest of the $1.2 million?
It's a mystery that involves jilted ex-lovers and greed, if you believe the words of a career crook and admitted liar.
Nivelo insists his now ex-fiancée kept his money and won't give it back. That woman had been in another longtime relationship with a man she called her husband (even though they weren't technically married), of which Nivelo was aware. When Nivelo called her in December, her husband took the phone and cursed him out, Nivelo said. Nivelo felt betrayed.
"I realize now how the money changed her mind," he said. "I was very sure I was in safe hands. She loves me. I love her. So nobody can get in our relationship. So I feel betrayed. I feel unloved."
The ex did end up sending Nivelo $50,000 – which he calls insulting – and in subsequent overseas communication via letters (they avoided speaking on the phone for fear of being monitored by police), she insisted to him that police had executed a search warrant in her home in New Jersey and took the cash.
"I know the police over there and I know they have no money. No money at all," he said. "She tried to rob me not once but twice."
The NYPD has declined to comment on any of Nivelo's claims in his interview with News 4, citing an open investigation into the case. They did confirm he's cooperating with them from Ecuador.
Less than 24 hours after Nivelo described his falling-out with his fiancée in a conversation with News 4, he got a call he never expected. When he picked up the phone, the voice on the other end was a very familiar one. She was in Ecuador and told him she wanted to see him. She promised to find a spot where they could meet, and said she would call him back.
"I never expected a phone call this morning, telling you the truth," he said. "I have to go forward, not backwards. I feel, yes, disappointing could be the word, but it's just strange."
She never called back.
"Why does she play games?" Nivelo wondered. "Even if she didn't make the phone call, I could still be cool."
News 4's attempts to reach the woman were not successful.
She has the money, Nivelo insists, but he's given up on any hope of getting it back. He'd rather now see the entire experience as a learning opportunity – at 55 years old, better late than never, he thinks.
He's done his time for the crime, he said, and readily acknowledges he was due for the punishment. The nine months he served in Ecuador, "I don't know if it was enough, I don't know how to qualify if it was good or not."
"The most important thing after this interview. My kids forgive me. And give me the love I need, and that will be enough."
And Nivelo still maintains the cash is very, very close to where he stole that fateful bucket of gold.
"You know that advertising in New York and they say, 'Where's the beef?'" he said. "I would like to say, 'Where's the money?'"
"The money is back in New Jersey," he said.