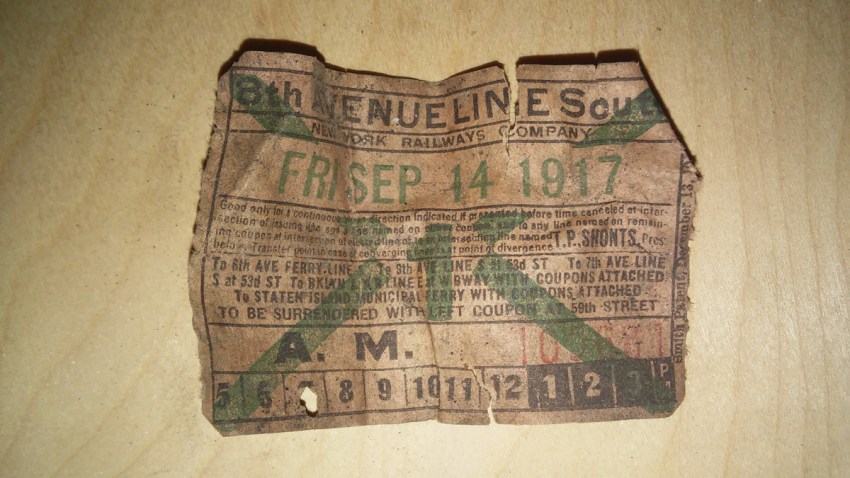 What to Know
A firefighter found 100-year-old streetcar tickets were found in a Tribeca firehouse
The tickets were in an old tin can in the basement of Engine 7/Ladder 1
The firefighter hopes to cross-reference log info to figure out who used the tickets a century ago
An FDNY firefighter discovered two century-old streetcar tickets in the basement of his Tribeca firehouse.
The firefighter was searching for screws in a workbench beneath Engine 7/Ladder 1 in Tribeca when he came across an old tin cup containing the tickets and a dusty pack of cigarettes.
The tickets are from the old Eighth Avenue streetcar line run by the now defunct New York Railways company. The date on the ticket reads Friday, Sept. 14, 1917. The ticketholder had traveled southbound, from Uptown to the firehouse in Tribeca.
The Eighth Avenue streetcar line opened in 1852 and ran along the west side of Manhattan. The streetcars were replaced by buses in 1936. The line is now serviced by the M10 and M20 bus routes.
The firefighter, who wanted to remain anonymous, said that there are old company journals in the firehouse's basement that date back nearly 100 years. The journals recorded all of the firemen who worked in the company and on what days they worked.
The firefighter said he hopes to cross-reference the info found on the tickets and in the journals to figure out who was the likely owner of the tickets.