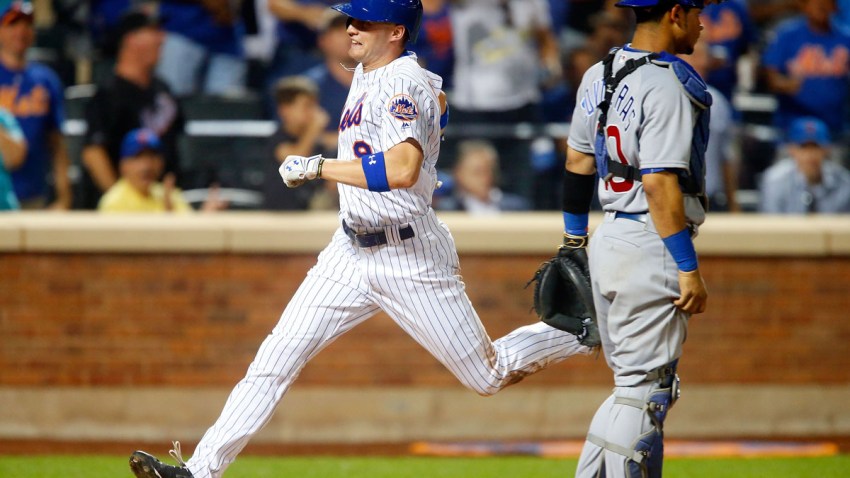 Chicago Cubs manager Joe Maddon thought his team played a pretty good ballgame. Starter John Lackey was not as forgiving.
"Getting beat's one thing. When you feel like you kind of gave one away, let one go, that's a different kind of loss," Lackey said.
Yoenis Cespedes socked a colossal home run , Jeurys Familia pitched out of a huge jam in the ninth inning and rookie replacement Brandon Nimmo keyed a three-run rally in the seventh that sent the New York Mets past the Cubs 4-3 on Thursday night in their first meeting since last year's NL Championship Series.
Chicago put runners on second and third with no outs against Familia, who got two strikeouts and a bases-loaded popup for his 27th save - most in the majors. He screamed and pumped his arms repeatedly after Javier Baez popped up to end it.
"I think our last three at-bats were a little bit too anxious," said Kris Bryant, who fanned for the first out in the ninth. "But he's supposed to do that. That's why he's the closer on their team."
Baez's throwing error at second base allowed Nimmo to score the go-ahead run, and the Mets overcame a 3-0 deficit to stop their four-game slide.
New York, which swept Chicago last October to reach the World Series, had lost nine straight regular-season games to the Cubs dating to August 2014.
"We made one mistake on defense, but otherwise it was a pretty good game of baseball," Maddon said.
Bryant hit a two-run homer for the major league-best Cubs. Baez added a solo shot off rookie Steven Matz before a scuffling Mets lineup finally pushed back in the opener of a four-game series between banged-up teams.
Cespedes launched a solo drive in the sixth that soared into the third deck in left field, two or three rows deep.
Travis d'Arnaud singled with one out in the seventh, chasing Lackey. Joel Peralta (0-1) walked slumping pinch-hitter Alejandro De Aza before Nimmo, starting for injured outfielder Curtis Granderson, singled on the ninth pitch of a gritty at-bat for his first career RBI.
"The walk to De Aza was the tough one," Maddon said. "It was just one of those nights."
The throw to third allowed Nimmo to reach second, and the Mets had two runners in scoring position. With the Cubs playing their infield in, Neil Walker hit an RBI chopper toward the middle against reliever Pedro Strop.
Figuring he had no play at the plate, Baez threw to third in an attempt to get Nimmo. But the wide throw ticked off Bryant's glove and rolled into foul territory, letting Nimmo cross the plate with a big smile on his face.
"KB was backpedaling to the base. It was tough for him to catch it, because he was moving the other way," Baez said. "I went to third because I didn't think I had a chance at first, either."
Erik Goeddel (1-0) struck out two in 1 2/3 hitless innings for the win.
LONG BALL
Cespedes' drive came off the bat at 110 mph and would have traveled 441 feet unimpeded, according to MLB's Statcast. ESPN Stats & Info had it at 466 feet. Either way, it was thought to be the first home run to reach the third deck at Citi Field, which opened in 2009. "I really think that got the guys energized," Mets manager Terry Collins said.
TRAINER'S ROOM
Cubs RF Jason Heyward was rested against the left-hander with Chicago in the middle of playing 24 straight days. He has a little soreness on his left side but certainly could have started, Maddon said. Heyward pinch-hit in the eighth and shattered his bat on a weak grounder back to the mound against lefty Jerry Blevins, stranding two runners. ... INF Tommy La Stella (strained right hamstring) went 1 for 4 in his third rehab game for Triple-A Iowa and is getting close to coming off the DL. RHP Adam Warren started that game for Iowa against Round Rock and threw 73 pitches over five innings, his second Triple-A tuneup as he gets stretched out in the minors to make a spot start for Chicago next Tuesday or Wednesday at home against Cincinnati.
Cubs RHP Jason Hammel (7-4, 2.58 ERA) starts Friday night against RHP Jacob deGrom (3-4, 2.67), who won Game 3 of the NLCS last year at Wrigley Field. The 2015 All-Star is 0-4 in 10 starts since beating San Francisco on April 30. Chicago has lost Hammel's last four outings after going 9-2 in his first 11. He is 0-3 with a 4.91 ERA in five career starts against the Mets, but all those losses came before 2013.
Copyright AP - Associated Press