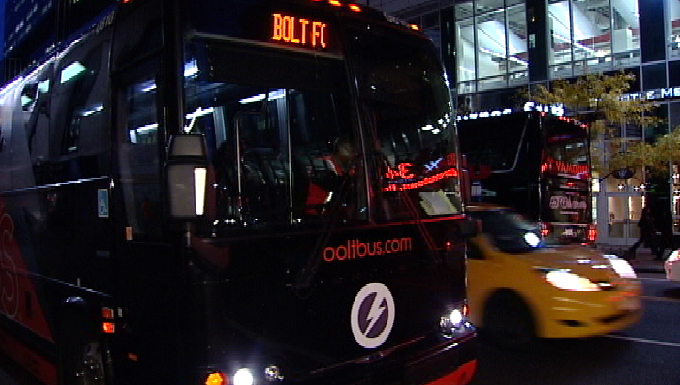 One person's bargain bus ride is another person's bummer.
So say commuters and store owners in the already jam-packed West 30's, a section of Manhattan that's seen a bus revolution in the recession.
It all started when Bolt, Megabus and others set up shop near Penn Station. The strategy was obvious: win new business by providing a much cheaper alternative to Amtrak and the airlines. Indeed, a one-way to Washington can be purchased for twenty bucks. Everything was running smoothly until...it all got too popular.
The city didn't provide enough designated bus parking. Midtown already has MTA buses, NY Waterway buses, tour buses and others jockeying for space. Throw in a new batch of long-haul cruisers needing a place to park and idle, and you've got a recipe for disagreement.
Noelle Mooney, manager of Stout pub on West 33rd Street said it's cost her business. "They block the whole sidewalk," she said of Bolt Bus. "There's bags, people, buses, you can't pass!"
On west 34th Street, Staten Island commuter Nancy McCaffery said it's like an obstacle course trying to board her daily ride home. "We have to dart into the street and hope we don't get hit, she said."
City officials say they're aware of the controversy. And a Bolt spokesperson, Bonnie Bastian, said: "We are in discussions with the city regarding alternative locations for our bus stops and we are hopeful that a decision will be reached shortly. We apologize for any potential inconvenience that may have been caused to businesses in the area."
One neighborhood executive who says his office has been frequently blocked by buses says the solution is obvious.
"They seem like very nice people at Bolt," says David Katz from Global Security on West 33rd Street. "But why can't they just move it to 9th or 10th avenue? There are less people. Problem solved."