What to Know
Thousands of Spectrum customers in central Queens were affected by the outage, the borough's president, Melinda Katz, said
The outage started around 2 a.m. after vandals cut a fiber optic cable serving major hubs, according to Katz
All services had been restored to customers by late Monday
About 60,000 Spectrum customers in Queens were without cable or internet on Monday after vandals cut a fiber optic cable serving four major hubs, according to the cable company and the borough's president.

Spectrum was working to restore cable, internet and phone services to thousands of customers more than 15 hours after vandals cut the fiber optic cable, Queens Borough President Melinda Katz said. It had been restored by late in the evening, the cable company said early Tuesday.
[NATL] Top News Photos: Pope Visits Japan, and More
Police have not released information about their investigation into the destruction of the fiber optic cable.

The outage began around 2 a.m. Monday and spread across central Queens. No other borough appeared to be affected. By around 11 p.m. Monday, it still wasn't fully restored.
Around 4 p.m., Spectrum tweeted: "Queens, NY customers, our technicians are continuing to work to restore services. We appreciate your patience."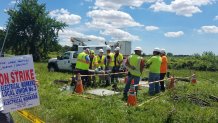 Katz said it was "unacceptable" that Spectrum didn't provide any information to its affected customers for more than 12 hours.
Dozens of people took to Twitter to vent about the problem throughout the day Monday; many of them directed their tweets at @Spectrum and @Ask_Spectrum, two accounts run by Charter Spectrum.
Some of the users said the lack of internet or phone service was having a major effect on their businesses.
Top Tri-State News Photos
"The Spectrum outage in Queens is costing massive amounts of money," one user wrote.
Others lamented infrastructure in the city or fumed about the length of the outage.
"The fact one line gets cut and Queens is without service is unacceptable," wrote one user.
For a Queens grocery store, Universal Food, Monday was cash only, resulting in a big hit, according to the owner.
"Phone and internet has been down all day," he said. "As a result, a lot of business has been lost."
(Disclaimer: NBCUniversal is owned by Comcast, a competitor of Charter Spectrum.)