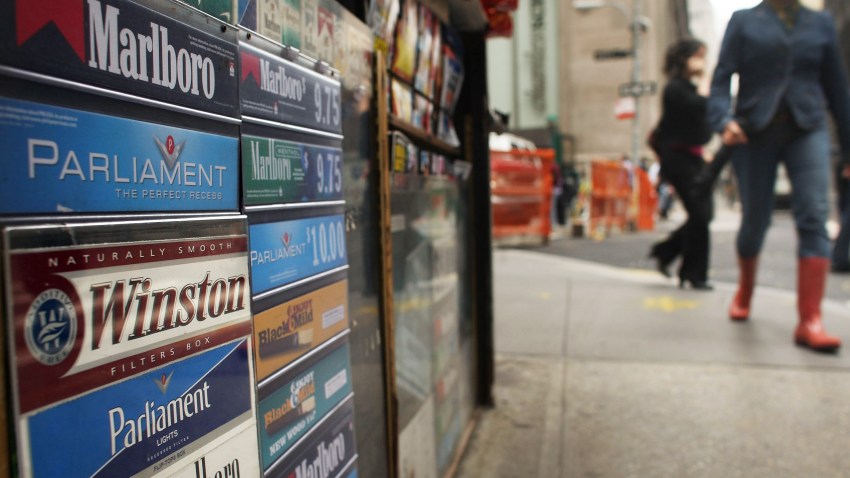 Annette Melendez stands outside the front door of a 34th Street office building. Her index and thumb pinch the butt of a cigarette -- one that starting today will cost her $1.60 extra.

Melendez and other smokers around the city are feeling the pinch from Albany where state lawmakers decided to increase the cigarette sin tax to help close the budget gap.
The addition to the already high tax rate will jump the average cost per box 20 percent to $11.
The new tax could raise an estimated $150 million in revenue for New York State.
But it doesn't bother Melendez, too much.

"Honey, I've been smoking so long its part of my monthly budget. I just need to add a few dollars a extra a month," she told NBCNewYork, laughing.

When the $1.60 is compounded with the local New York City tax, Big Apple cigarettes have the nation's highest combined tax in the country, according to Department of Health Officials.
Gothamites pay $1.50 in city excise tax, $4.35 in state excise tax and $1.01 in federal excise tax.

That means that smokers who go through a pack a day could end up spending more than $300 a month.

Dr. Thomas Farley, the New York City Department of Health and Mental Hygiene Commissioner emphatically noted, "Now is the time to quit. Smoking is hurting your health and your wallet."

And New York City is known for its aggressive anti-smoking campaigns. From the advertisements featuring smokers with amputated limbs to subway posters of blackened lungs, but its biggest weapon in the war on smoking have been taxes.

According to the Department of Health the city has 300,000 fewer adult smokers today than in 2002, which city officials are attributing to the price increases.

The 2008 New York State cigarette tax increase prompted more than 2,700 calls to 311 requesting information on ways the city could help people to quit over the course of one week. That was three times the number of calls during the same period in 2007.

Smokers like Jose Ortiz of Washington Heights, noted many city residents wouldn't feel the pinch. Ortiz like many New Yorkers practices the "bumming" system. They go out with friends who smoke and in essence, borrow a cigarette with the intent to pay them later.

But the new tax and realization that his friends will have to pay more made him reconsider, " I won't support the cost. It's not fair to my friends."

While others, like Alexis H., who asked that his last name not be revealed, circumvent the system by going to other counties in New York.

"I go to Yonkers, that way I don't have to pay the NYC tax. It's only going to cost me a bit extra," said the 28-year-old.

Dr. Farley noted that those seeking to quit should take this as an opportunity to save money. He also noted, "You will feel better, your families will be safer and you will save yourself hundreds of dollars every month."

New York City has recently seen its lowest rate of smoking, 15.8 percent.
The Health Department encourages New Yorkers looking to quit to call 311 or 866-NY-QUITS. They can also visit nysmokefree.com.