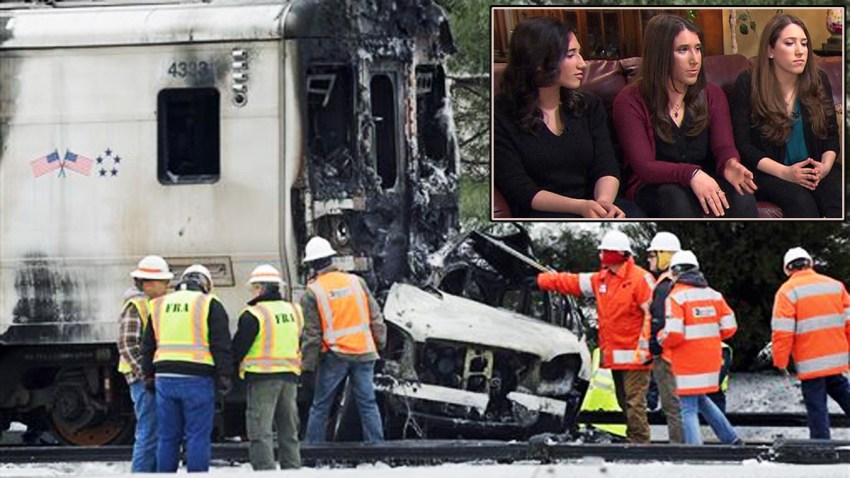 The daughters of the New York woman who died when her SUV got trapped in a railroad crossing and was hit by an oncoming Metro-North train, sparking an explosion that also killed five train passengers, spoke publicly Tuesday for the first time since last month's accident, remembering -- and defending -- their mother, who has been criticized for not moving out of the train's path.
On the night of Feb. 3, Danielle, Julia and Alexa Brody heard that a woman had stopped on the tracks in Valhalla after a train crossing came down on the back of her car. The three didn't know that the woman in the news was their mother, Ellen Brody.
"I thought that maybe she committed suicide," Julia Brody said. "So I was like, 'Why? Why? Why would this woman do that?' When we were watching that, though, when he described the woman, I was like, 'That could've been Mommy.' And my sisters were just like, 'Julia, no.'''
Julia Brody says she called her mother and became increasingly worried when she couldn't reach her. She contacted her father, who was also concerned. He said he'd drive around to look for her mother; later, he arrived home with two police cars.
"When he came in, he's like, 'She's gone,'" Alexa Brody said.
The three sisters slept together that night.
The National Transportation Safety Board is investigating the crash. Although the exact cause of the collision has not been determined, Ellen Brody's SUV was stuck inside the railroad crossing gates moments before the train hit. Instead of backing up, she drove forward onto the tracks.
The sisters say they're trying to remember the way their mother lived, but the unanswered questions -continue to haunt them, as do critical comments online.
"I went on Google, and I searched my mom's name and I was just reading the comments,'' Julia Brody said. "And just the fact that people are like, 'You know, I don't even feel bad for her. How could she possibly do that?'"
The sisters say their mom was a caring person who enriched the lives of those around her.
"I know who my mom was," Alexa Brody said. "I know that she would never, never intentionally hurt people."
Danielle Brody says it's hard in such a tragic situation for people to put themselves in the victim's shoes.
"A lot of times people just want to find a reason," she said. "It's just not true. It was an accident."
"She's not a murderer," added Julia Brody.
Alexa Brody memorialized her mother at a funeral last month, saying she would think of her every time she smiled.
"I needed to let people know how much I loved her," Alexa said. "She was my best friend."
The Westchester County crossing has no barrier between the street and the tracks, and such crossings present safety issues, officials have said. The chairman of the MTA, which runs Metro-North Railroad and the Long Island Rail Road, has said the agency is considering all possible safety enhancements that would prevent such deadly accidents in the future. It is also partnering with a nonprofit that educates the public about the dangers at rail crossings.