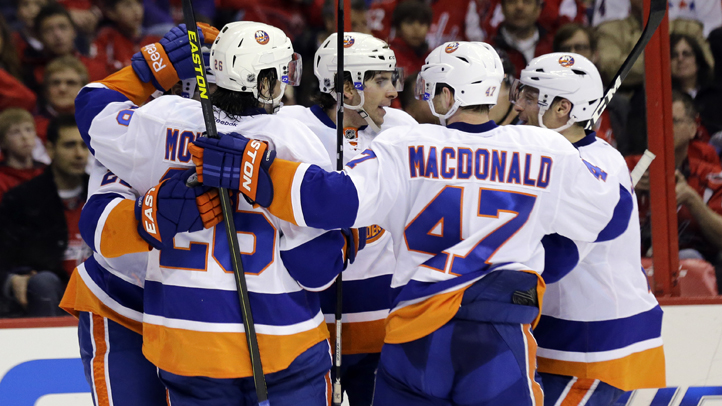 John Tavares broke a tie with 5:18 left to help the New York Islanders beat the Washington Capitals 3-2 on Tuesday night.
Matt Moulson forced a turnover by Washington defenseman Mike Green next to the Capitals' net and fed Tavares in the right circle for his 20th goal of the season. Michael Grabner and Josh Bailey also scored for the Islanders.
Mike Ribeiro and John Carlson scored for Washington.
New York (15-15-3) and Washington (15-17-1) are fighting for playoff spots in the Eastern Conference. The Islanders have won two straight and improved to 9-5-1 on the road. They also ended Washington's winning streak at three games.
New York's Evgeni Nabokov made 20 saves to improve to 12-1-2 lifetime against Washington.
Braden Holtby stopped 28 shots for Washington.
The Capitals had several scoring chances early in the third. Nabokov stopped Troy Brouwer alone in front in the opening minutes of the period and Alex Ovechkin on a slap shot about 6 minutes in.
With the Islanders already leading 2-0 in the second, Holtby made several good stops during a New York power play.
Ribeiro then cut the deficit in half at the 10:05 mark. Troy Brouwer led a rush into the Islanders' zone and dropped it to Ribeiro, who eluded a defender and beat Nabokov from the right circle. It was Ribeiro's 11th goal and team-leading 35th point.
Carlson tied it less than 3 minutes later on a slap shot from the right point with assists from Marcus Johannsson and Ovechkin.
Grabner opened the scoring at 5:24 of the first period. Keith Aucoin picked up a loose puck along the boards and passed to in front to a wide-open Grabner, who one-timed the puck past Holtby on the glove side for his 11th goal of the season.
New York made 2-0 minutes later on a similar goal. This time, Bailey took a crossing pass from Kyle Okposo in the right circle and one-timed it past Holtby on the stick side.
Washington had several good chances later in the period. The Capitals kept the puck in the Islanders' end for several minutes during one stretch, but came away empty after Johansson hit the post. In the final minute of the period, Brooks Laich came in on a semi-breakaway during a New York line change, but Nabokov stopped his slapper.
Copyright AP - Associated Press