The Bronx is the least healthy county in all of New York state, according to a new study.
Bronx County ranked dead last in the annual health report by the University of Wisconsin and the Robert Wood Johnson Foundation, which ranked the 62 New York counties, along with the other U.S. states.
The Bronx is the worst county in the state in both "health factors" and "health outcomes." The former leads to the latter, with health factors like tobacco use, access to care, education and air quality influencing length of life and quality of life, or health outcomes.
Overall, the Bronx has among the worst health behaviors (diet, exercise, drug abuse) and clinical care (access to care, quality of care), as well as the worst social and economic factors (employment, income, community safety) and physical environment (water quality, housing, transit).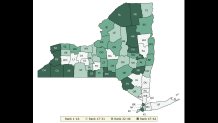 Perhaps the most striking takeaway from the study is disparities in length of life in New York City. People in the Bronx are much more likely to die early than in any other county in New York City or on Long Island. Bronx county ranks 54 of the 62.
By comparison, the rest of the city and Long Island are among the most long-living places in the state. Manhattan is 2, Queens is 5, Staten Island is 12, and Brooklyn is 15. On Long Island, Nassau is 4 and Suffolk is 10.
The Bronx also has the lowest quality of life in the state, although the rest of the city isn't far behind. Out of 62 counties, the Bronx is 62, Brooklyn is 61, Queens is 59, and Manhattan is 56. Staten Island is 38.
Sullivan County to the northwest of the city is also markedly unhealthy, ranking 61 in overall health and 59 in health factors.
Many of the unhealthy counties in New York are far upstate (St. Lawrence, Franklin, Hamilton) or far to the west (Niagara, Erie, Chautauqua). The healthiest regions tend to be towards the center of the state or on its eastern edge.
To explore your state and county, go to this interactive map of the U.S.
You can take a look at overviews of your state and county, or review breakdowns of a slew of factors like obesity, motor vehicle crashes, sleep deprivation and residential segregation.
Here's a rundown of the healthiest and least health counties in the tri-state:
Most 5 healthy counties in New York:
1. Saratoga
2. Nassau
3. Rockland
4. Putnam
5. Westchester
Least 5 healthy counties in New York:
1. Bronx
2. Sullivan
3. Cattaraugus
4. Greene
5. Chautauqua
Top 5 healthy counties in New Jersey:
1. Hunterdon
2. Morris
3. Somerset
4. Bergen
5. Sussex
Least 5 healthy counties in New Jersey:
1. Cumberland
2. Essex
3. Camden
4. Atlantic
5. Salem
Connecticut counties (healthiest first):
1. Tolland
2. Middlesex
3. Fairfield
4. Litchfield
5. New London
6. New Haven
7. Hartford
8. Windham