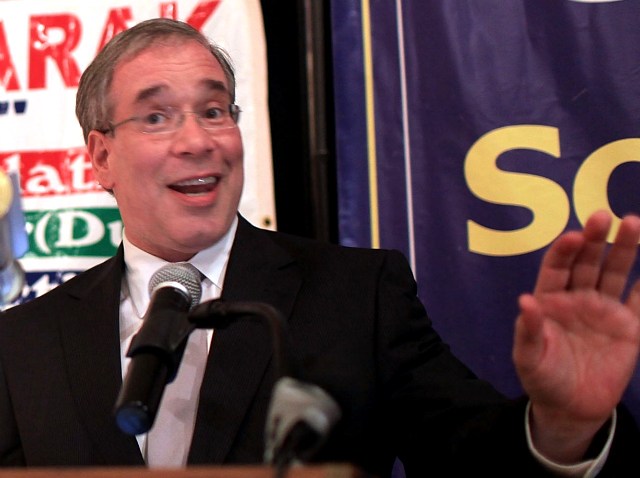 Manhattan Borough President Scott Stringer stepped off the island and ventured into Brooklyn Wednesday night with sights on a citywide office.
"I'm very proud you came out on a night like this and listened to a Manhattanite in Williamsburg. I won't tell anybody," joked the borough president to a group of 30-40 mostly young Brooklynites who work in sustainable living in some capacity.
One-time council member candidate and David Yassky's former chief of staff, Evan Thies, hosted the small meet-and-greet for his friend. Stringer said he's done 40 similar fundraising events; a "living room" approach to scout "people's priorities for a post-Bloomberg era" and collect small donations ranging from $20 to $100.
"My goal for the next three years is to [have] 20,000 people to donate the campaign. If you're going to run for office in 2013, you shouldn't have to rely the top hundred donors in the city," said Stringer, who (sort of) jokingly added, "But if one of you in this room is one of the top 100 donors, we do want to talk to you."
The Scott Stringer 2010 campaign won't clarify what office he is seeking, saying only that it is "citywide." But the Williamsburg-folk seemed pleased with the evening's agenda, which aims to stimulate the economy in addition to cultivate healthier New Yorkers.
"Why is Burger King and McDonald's and KFC in all of these neighborhoods uptown?" Stringer said. "This is the food people are eating. And then you do a study and find out that the city is subsidizing these fast food trucks. And their not subsidizing supermarkets that they desperately need."
Stringer's outline for a sustainable food system came a few months before Council Speaker Christine Quinn's Food NYC farm-to-fork blueprint, but the borough president insisted that he's not picking a food fight for the better plan.
"I don't think it's about choosing sides," Stringer said, adding: "When you look at Food Works, you do see NYC Food, and that's the goal."